VIVOO organic chocolate
Organic chocolate from VIVOO from Italy.Surprisingly, there are several types such as 100% cacao, 73% cacao, and hazelnut, but this time I tried "Organic raw chocolate cacao 93% & probiotics".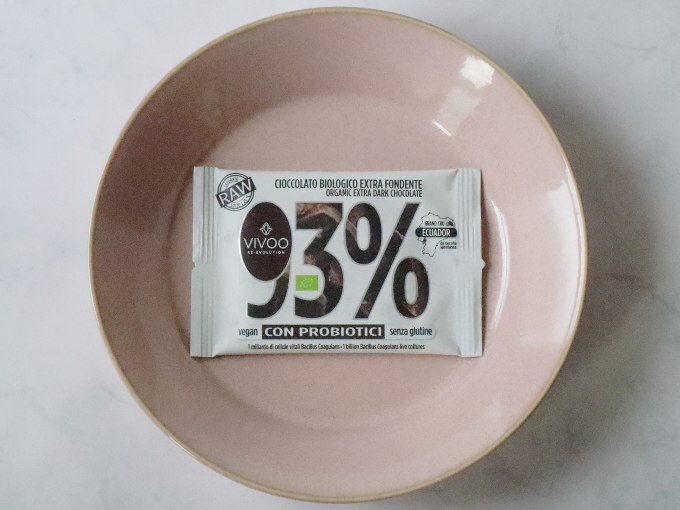 In general chocolate making, it is common to apply heat such as roasting cacao beans, but this organic chocolate is RAW specification.All processes are performed below 48°C.They are particular about the variety of cacao beans, and use the rare "Chlorio" and "Ariba" varieties.Because it is not heated, the delicate nutritional ingredients that are vulnerable to heat are not easily lost, and you can enjoy the flavor and deliciousness of cacao.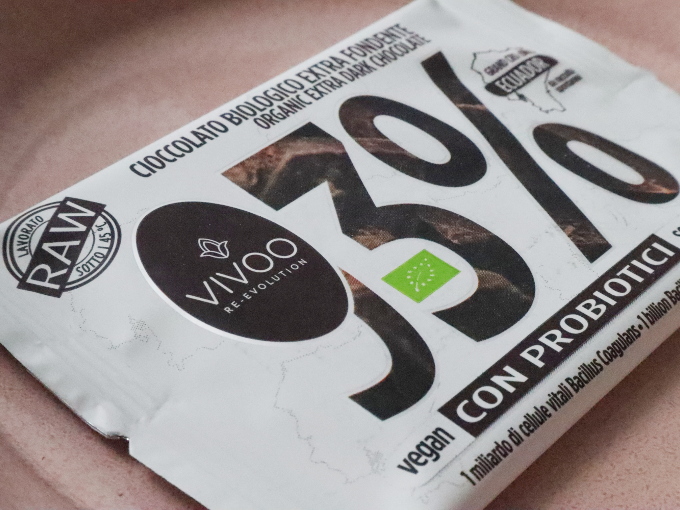 Euroleaf is in the package.Of course, it is organic raw chocolate that has also acquired organic JAS certification.It is also dairy-free.Many chocolates may use dairy products in the factory, so even if this product is vegan, the dairy ingredients are often specified in the contamination label.There is no indication of contamination, and the word "VEGAN" is also printed on the package.It contains probiotics, but lactic acid bacteria are also plant-derived.
◎ORGANIC
◎ RAW
◎VEGAN
◎ GLUTEN FREE
◎PROBIOTICS
All XNUMX beats! ?
If you add in the fact that it is 93% high cocoa, it will be a XNUMX beat!
The stamp is also unique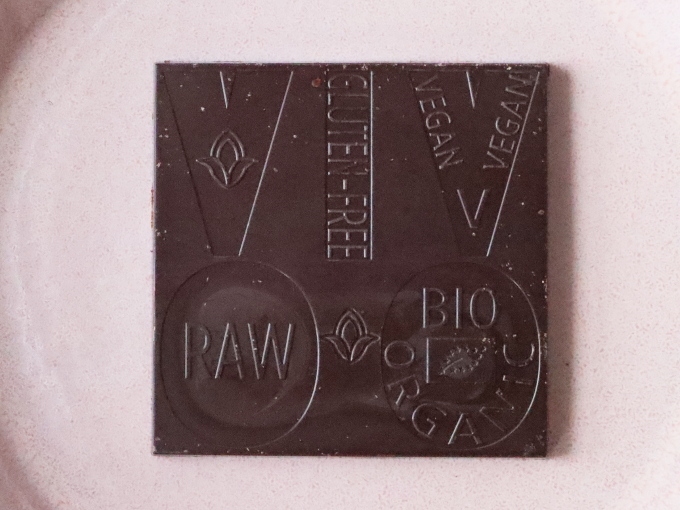 I took out the chocolate inside.Impressive engraving!The company name VIVOO contains the words RAW, VEGAN, GLUTEN FREE, and BIO (ORGANIC).
What is your favorite taste?
First, the cocoa content. 93% cocoa is quite high, so is it bitter and hard to eat?I thought it was nothing like that at all, and it was delicious.Because the thickness of the chocolate is thin, it feels light and easy to eat.
Everyone knows that cacao polyphenols contained in chocolate are good for beauty and health as a component with a strong antioxidant effect. There is no clear guideline for the proper intake of polyphenols per day, but it would be nice if you could get them by eating delicious chocolate.
However, not all chocolate is healthy.
By the way, the amount of cacao polyphenol per piece of this chocolate (1g) is 30mg.I use organic coconut sugar instead of white sugar.I also love that it contains probiotics!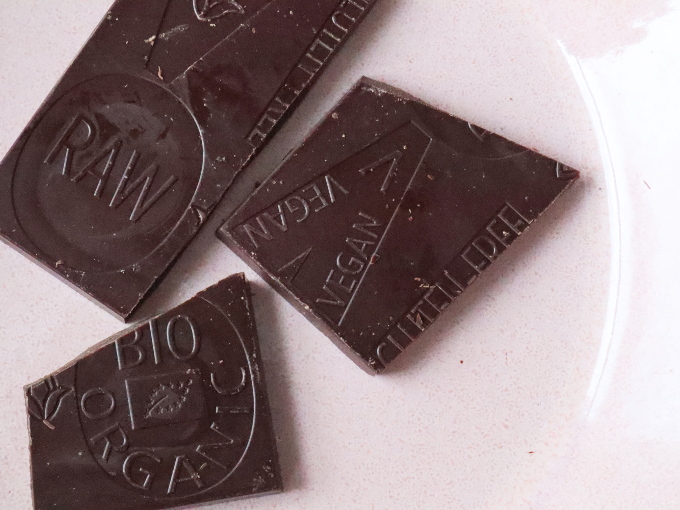 Sweet chocolate tends to make you eat too much, but it's strange because you'll be satisfied with just one piece of high-cacao chocolate. "Organic Raw Chocolate Cacao 93% & Probiotics" is a healthy and delicious chocolate that you'll want to have after waking up in the morning with coffee rather than as a snack.