The illustrations are cute too!organic crackers
Biokashi's new series "Biokashi Vege-Cracker".It is a sustainable sweet that incorporates upcycling, such as using non-standard organic vegetables.
The first thing I noticed was how cute the packaging was!
It's an organic sweet that has acquired organic JAS, but in a good way it doesn't feel like that.For some reason, many of the natural sweets made in Japan have simple packaging and have a natural feel... Biokashi Vege-Cracker is colorful, pop and cute!Illustrations are not for so-called kids.It's a genderless cuteness that makes both children and adults excited and happy.I think it's a type that has never existed before.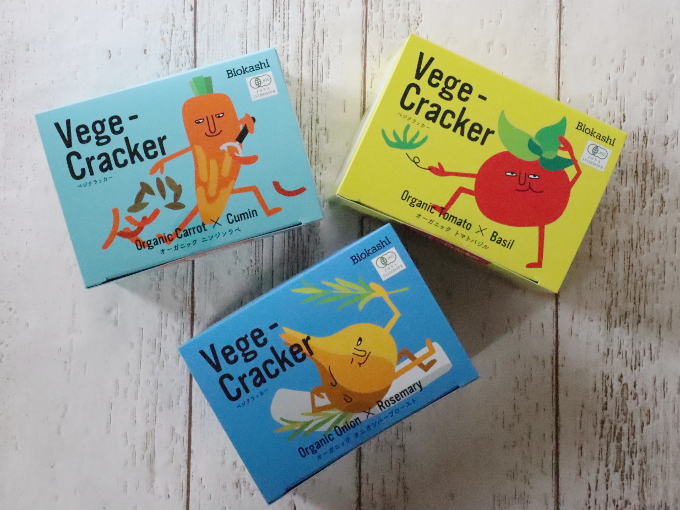 The photo above shows XNUMX types, but there are actually XNUMX types!
・Vege-Cracker Organic Onion Herb Roast
・Vege-Cracker Organic Tomato Basil
・Vege-Cracker Organic Carrot Rape
・Vege-Cracker Organic Sweet Potato
・Vege-Cracker Organic Maple Pumpkin
▽ New release of "Biokashi Vege-Cracker", a natural sweets that allows you to see the ingredients
https://organic-press.com/news/alphafoodstuffs-news04/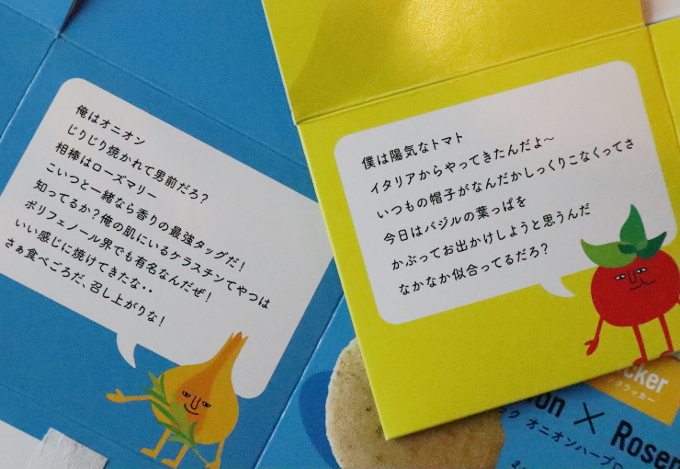 The messages from the vegetables are also surreal, and you can't help but giggle!I laugh.
Pay attention to the inside of the box
When you open the box, there is a message written inside!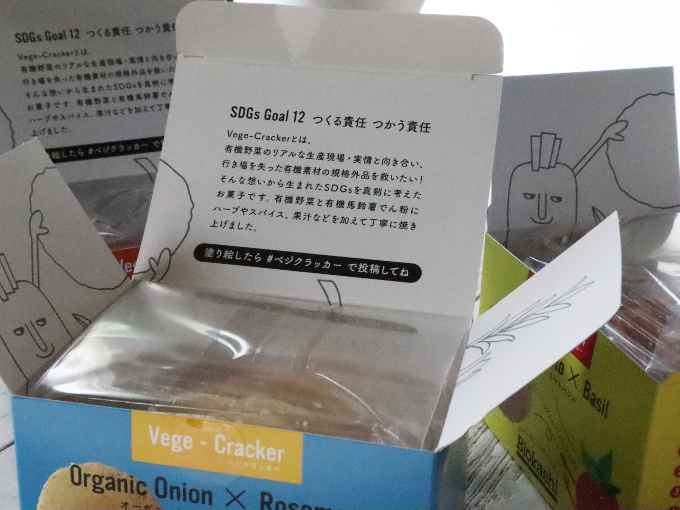 One of the 17 SDGs (Sustainable Development Goals) is written.
SDGs Goal 12 Responsible production Responsible consumption
Vege-Cracker wants to face the real production site and actual situation of organic vegetables and save non-standard organic materials that have lost their place to go!It is a sweet that seriously considers SDGs born from such thoughts.Organic vegetables and organic potato starch are carefully baked with herbs, spices, and fruit juice.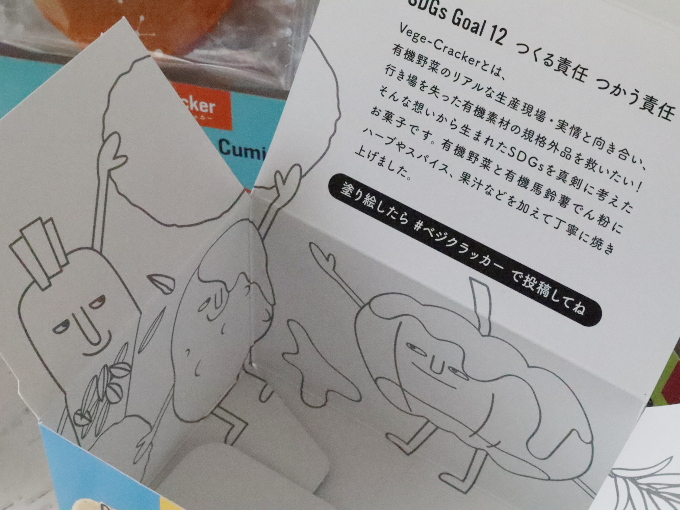 Illustrations are drawn as well as messages.This could be...! ?I cut and spread the assembled outer box from the adhesive part.
Enjoy coloring
After all!
Normally, sweets packages are thrown into the trash after being opened and eaten, but there is a trick that allows you to enjoy coloring before throwing them away.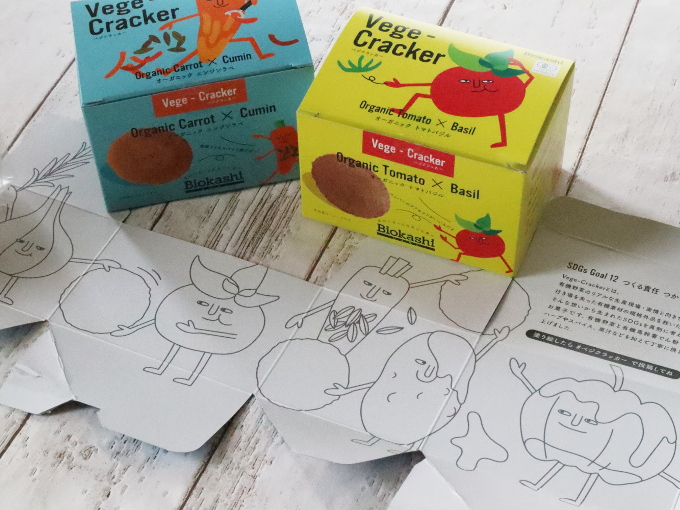 Children will be happy too.Not only for children, but also for adults, it's fun to return to your childhood when you try it!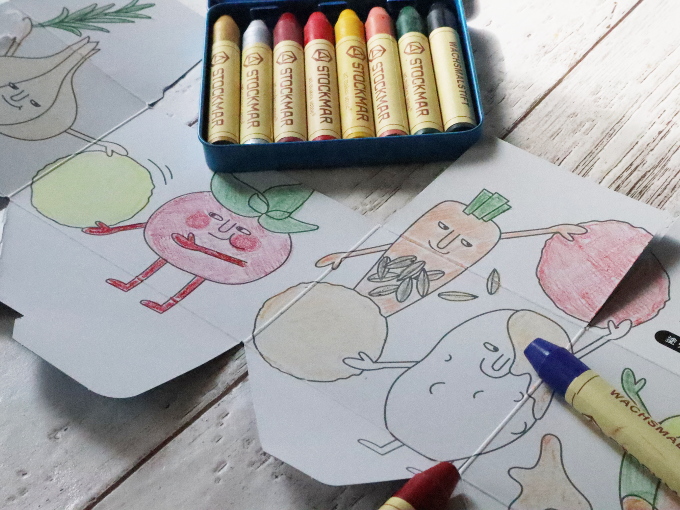 What flavor are you interested in?
I actually tried all 5 types of Biokashi Vege-Cracker!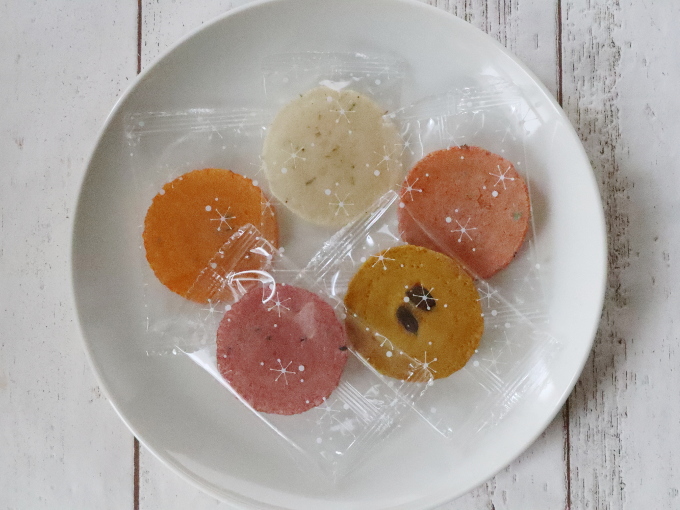 This is surprising!It's pretty grown-up.
The onion herb roast is a little tangy at the end, and the black pepper works just fine.It seems that they use smoked salt and pepper.Tomato basil is an Italian feeling.At first, the carrot rapee has a sweet scent of organic carrots, but when you start eating it, it has a spicy scent of cumin.It looks like curry! ?The sweetness of the sweet potato and the sweetness of the black sesame and maple syrup are exquisite.Sweet potato or university potato? (Laughs) Maple pumpkin has a mild pumpkin sweetness.It has pumpkin seeds.
The base is so-called potato starch.There are shrimp crackers, seaweed crackers such as wakame seaweed and seaweed, and soft crackers for babies that don't contain anything.
Vege-Cracker contains organic vegetables, so all of them have a proper vegetable aroma and taste.However, not only that, but it also contains herbs and spices, so it has a taste that adults can enjoy, unlike what it looks like.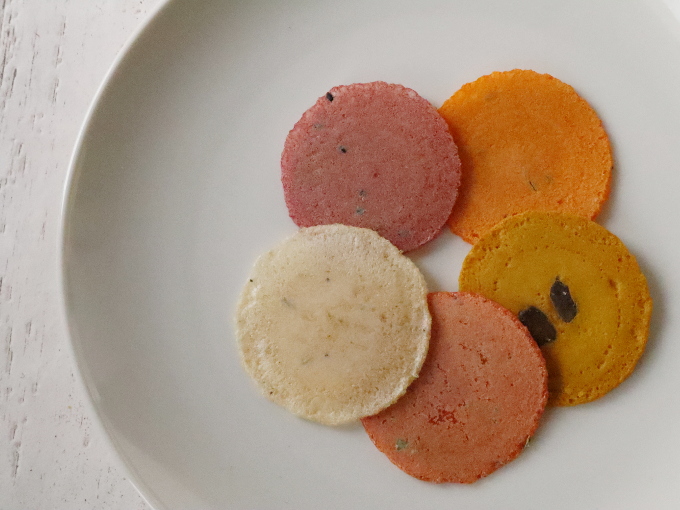 Onion Herb Roast Ingredients: Organic onion (domestic production), organic potato starch (domestic production), smoked salt and pepper, starch, organic rosemary, salt
Tomato basil Ingredients: Organic potato starch (produced in Japan), organic tomato (produced in Italy), organic tomato juice (produced in Italy), salt, organic black pepper, organic basil.
Carrot rape Ingredients: Organic carrot (domestic), organic potato starch (domestic production), organic sugar, organic lemon juice, salt, organic cumin
Sweet Potato Ingredients: Organic sweet potato (domestic production), organic purple sweet potato paste (domestic production), organic potato starch (domestic production), organic sugar, organic maple syrup, organic black sesame, salt
Maple Pumpkin Ingredients: Organic pumpkin (domestic production), organic potato starch (domestic production), organic pumpkin seeds, organic sugar, organic maple syrup, salt