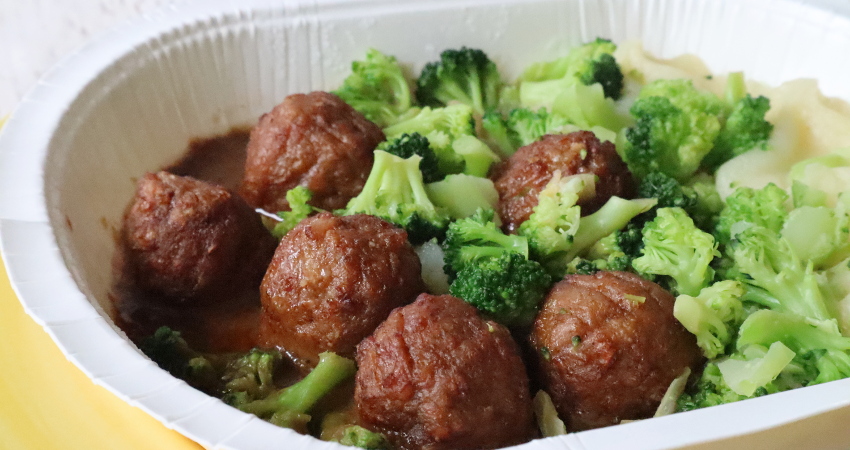 LÄTTLAGAT
LÄTTLAGAT is a one-plate frozen food that contains mashed potatoes, cream sauce, and broccoli in plant balls that reproduce IKEA meatballs made from plant-derived ingredients.Just heat it up in the microwave or oven and it's ready to eat!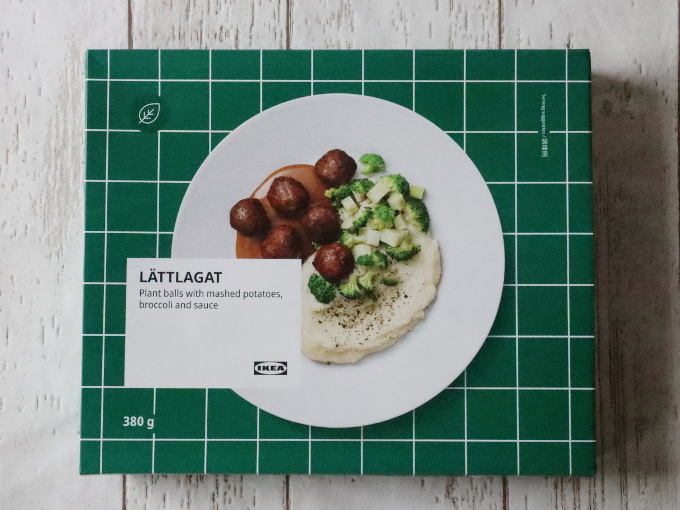 When you open the inside, you will find something with a film stuck on a paper plate like this.IKEA plant balls, mashed potatoes and broccoli are already served.The ingredients are fixed with mashed potatoes and sauce, so if you put it vertically in the freezer, the contents won't come apart.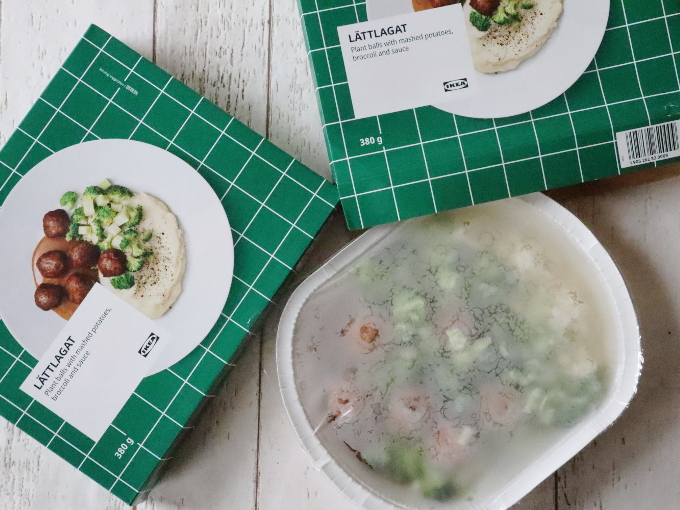 Ingredients: Mashed potato [potato, vegetable oil, oat base, salt, white pepper / thickener (modified starch, guar gum), emulsifier], vegetable ball [pea protein, vegetable oil, potato, fried onion, onion, processed rice flour. Ingredients (rice flour, glucose, salt), oat bran, pea starch, mushroom concentrate powder, dried apple, salt, tomato powder, lemon juice concentrate, black pepper, allspice/methylcellulose, flavoring], broccoli mix [broccoli , diced broccoli], sauce [oat base, tomato puree, salt, cassis puree, sugar, spice mix, white pepper, thyme/processed starch, fragrance, caramel pigment, thickener (processed starch, guar gum), emulsifier]
Ready to eat just by heating
I tried immediately. (for microwave)
Without removing the film, poke some holes with the tip of a fork.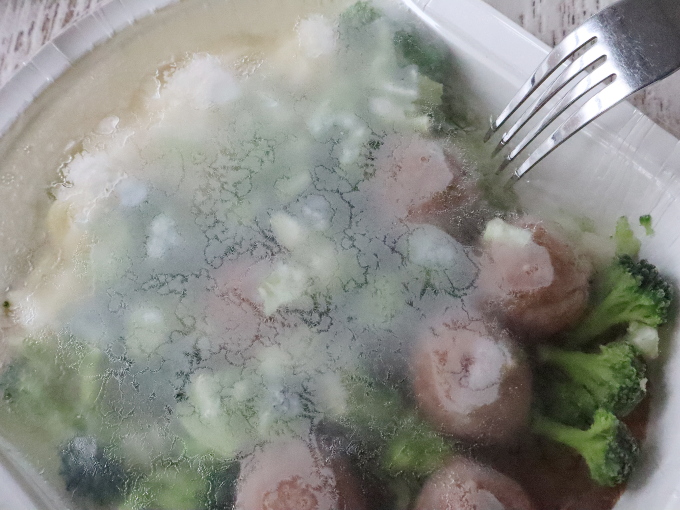 Heat in a 750W microwave oven for 6-XNUMX minutes.only this!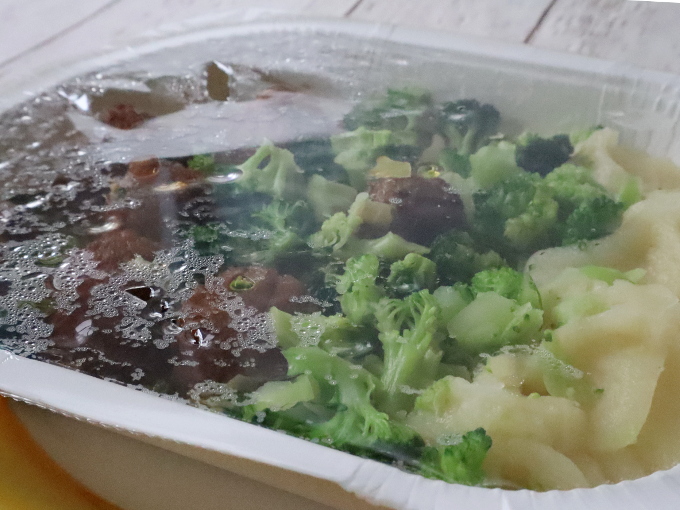 Let it sit for a few minutes and then remove the film.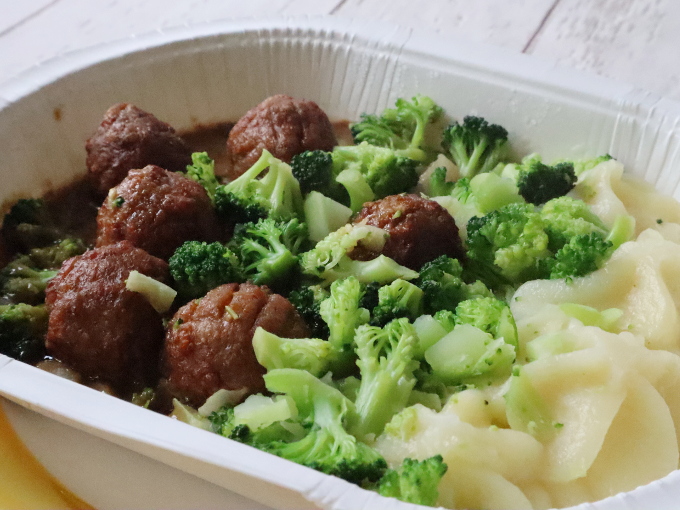 It's beautifully arranged, so you can serve it to the table as it is!
What is your favorite taste?
First of all, the first thing that impressed me was the broccoli!I have the impression that frozen food is going to make the vegetables sticky, but it's chewy and looks like it's freshly boiled.I don't think it's frozen.
And I thought it was really nice that the broccoli stems were also chopped and used as one of the ingredients, "diced broccoli".I think most people eat the stalks together when cooking at home, but in Japan, it is rare to see broccoli served with commercially available bento boxes using only the stalks. .I felt that it is rare in processed foods.
Is it an environmentally conscious Sweden-like idea for food loss countermeasures?arbitrarily guessed.Rather than a countermeasure, this may be a natural feeling.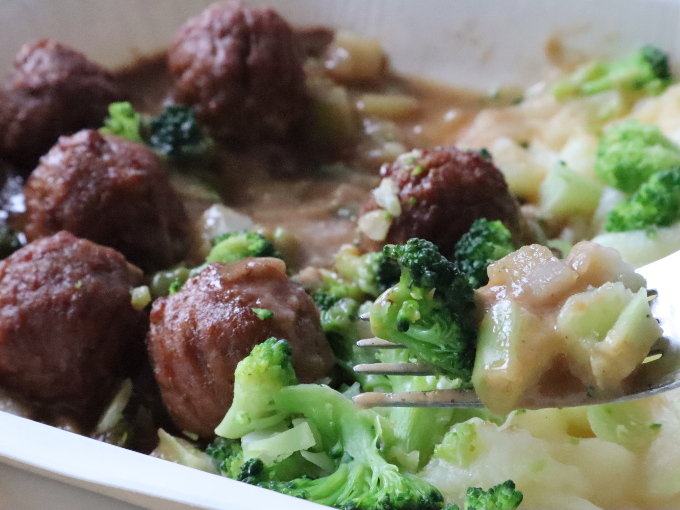 The creamy mashed potatoes are delicious, and the plant balls might not even realize they're meat-free if you don't tell them.It's as delicious as you think.that?Was it this delicious?I thought so at first sight.
before,I tried frozen plant ballsWas it because of the impression of the time?This time it was also delicious, but without the sauce.I feel that the taste of this sauce is entwined, and the taste is more delicious.
This is just another level of treat! ?
380g / 599 yen (tax included) per serving is a surprise!