WELEDA skin food body milk
WELEDA, the pioneer of organic cosmetics, has released the popular "Skin Food Series" body milk!
▽ Weleda's body milk series has been renewed! "Skin Food Series" Body Milk New Release
https://organic-press.com/news/weledajapan_news19/
Since its launch in 1926, the WELEDA skin food series has been loved as a "rescue item for dry skin" with a rich texture.This time, the long-awaited body milk joins the lineup!Non-sticky and moisturizing.A traditional herbal recipe that prevents rough skin caused by dryness.
About WELEDA
Born in Switzerland in 1921, Weleda is a global pioneer of organic cosmetics brands, celebrating its 100th anniversary this year.With sustainability as our corporate philosophy, we are currently talking about "humans and nature are essentially one", and are loved in more than 50 countries around the world.We clearly set our own goals for everything from the procurement of raw materials to the electricity and packaging that we use, and we make decisions based on whether all items related to our business are truly sustainable.On top of that, we have created high quality standards based on unwavering beliefs.
organic and sustainable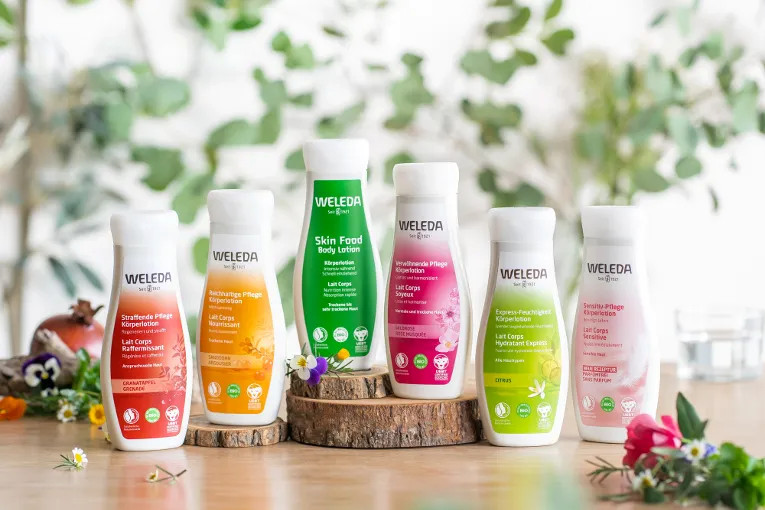 And Weleda's body milk series has been renewed at the same time, making it more sustainable!
■ Package
From the procurement of raw materials to the selection of electricity and packages to be used, we clearly set goals to be achieved by ourselves, and we decide all items related to our business based on "whether it is truly sustainable."For this renewal, we have changed to more environmentally friendly and sustainable specifications, so we have eliminated the cosmetic box, reduced the amount of plastic used in the bottle, and used recycled materials (bottles excluding caps and labels). part is recycled PET 97%).
■ About UEBT certification
The new body milk series is printed with the UEBT certification mark, which certifies that the natural ingredients used in the products have been sourced under ethical and sustainable conditions that respect biodiversity.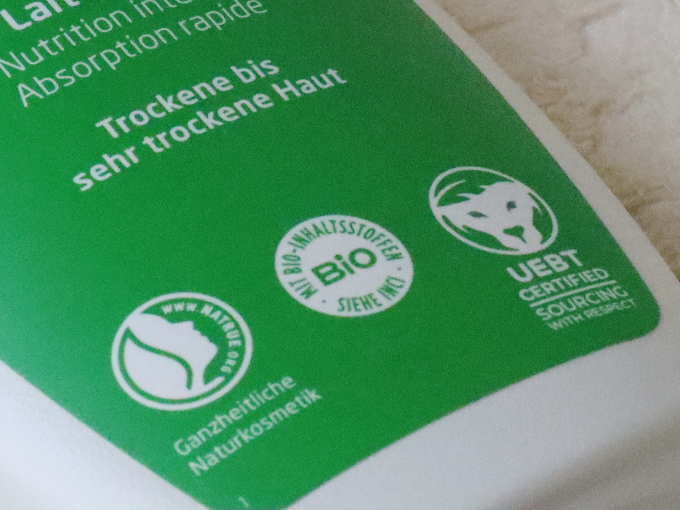 We use organically grown ingredients in our products.The package has the NATRUE certification mark.And the far right is the "UEBT certification" mark.At first glance, it looks like an animal's face, but it is composed of three parts: a plant (leaf), an animal (face), and a human (hand), and represents the need for ecological balance with the earth. .With that being said, if you take a closer look, you'll see that more and more!
UEBT (Union for Ethical BioTrade) has established clear global standards for the sustainable procurement and use of natural resources, the conservation of biodiversity, and the fair distribution of profits. A testament to brands committed to ethical sourcing of raw materials while preserving diversity.We can confirm that we respect the diversity of people, animals and plants on the planet.
vegan friendly
WELEDA products are vegetarian friendly!Some Weleda cosmetics contain beeswax, beeswax extract, lanolin, goat milk, and lactose. It seems that there is no VEGAN certification mark on the product itself.
In order to make it easier for consumers to identify the ingredients without looking at all the ingredients on the brand website, products that do not use animal-derived ingredients are marked with a mark, so please check it out. (not a certification mark) Skinfood Body Milk contains no animal-derived ingredients and is vegan-friendly!
The feeling of use is a little firmer than milky lotion, but smoother than cream.So it spreads easily on the skin and moisturizes well.It has a mildly sweet herb scent, but it doesn't linger after you apply it, so I think it's good for those who are looking for fragrance-free or something close to it!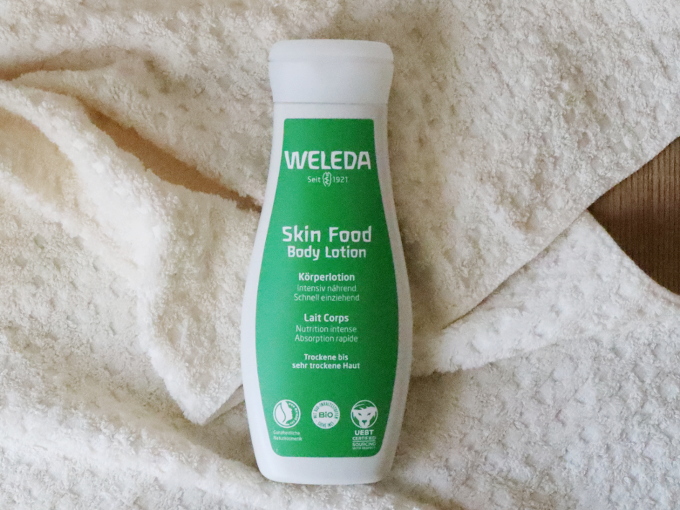 All Ingredients: Water, Sunflower Seed Oil*, Caprylic/Capric Triglyceride, Glycerin, Safflower Oil*, Ethanol*, Glyceryl Citrate Stearate, Betaine, Shea Butter*, Tapioca Starch, Stearic Acid, Palmitic Acid. , Olive oil fatty acid sorbitan, rosemary leaf extract*, chamomile flower extract*, violet viola extract, calendula officinalis flower extract*, xanthan gum, tocopherol, lactic acid, glyceryl caprylate, fragrance**
*Organic Ingredients **Naturally Derived Ingredients
■ Founded in 1921 by R. Steiner
■ 100% natural ingredients, certified organic NATRUE
■ Synthetic preserving king, synthetic coloring, synthetic fragrance and mineral oil are not used at all
■ Use biodynamic cultivation, organic cultivation, and wild plants
■No animal testing