2foods plant-based nuggets
2foods plant-based nuggets with a chicken-like texture.Using soy protein as the main ingredient, it seems that it has achieved a chewy texture and fiber feeling with its own technology.The batter uses corn flakes instead of bread crumbs.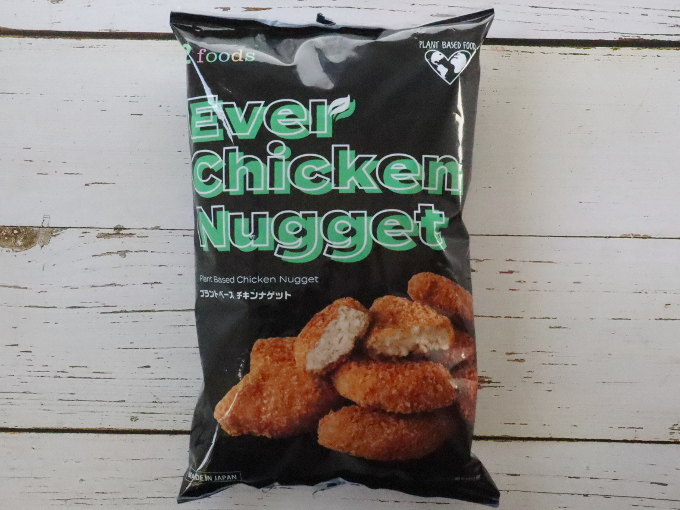 One serving (1 pieces, 5g) contains more than 100g of protein, which is equivalent to that of regular chicken nuggets.Since it contains oat fiber, you can get 15g of dietary fiber per serving, which is equivalent to about 1 heads of lettuce!Gluten-free by using corn flakes instead of wheat for the batter!
Ingredients: granulated soy protein (manufactured in Japan), batter (corn flakes (corn grits, starch syrup, sugar, etc.), rice flour, corn flour, chickpea powder), edible sunflower oil, oat fiber, yeast extract, beet sugar, salt, Apple cider vinegar, spices, celery, frying oil (edible rapeseed oil, edible corn oil) / paste (methylcellulose, xanthan gum)
■ Recommended way to eat: Microwave + toaster oven
Place the frozen product out of the bag on a plate and heat it in the microwave without wrapping it.
Put the nuggets warmed in the microwave on a saucer lined with aluminum foil and heat them in the oven toaster.
*Refer to the reverse side for heating time and details.
■ When you want to eat easily: Oven toaster
Take out the desired number of frozen products from the bag, place them on a tray lined with aluminum foil, and heat them in a toaster oven.
*Time may vary slightly depending on the model of the toaster oven and the number of ever chicken nuggets.
*Refer to the reverse side for heating time and details.
■ Even more delicious with a single effort: Fry in oil
Fry the frozen product in oil at 180°C for 3 minutes.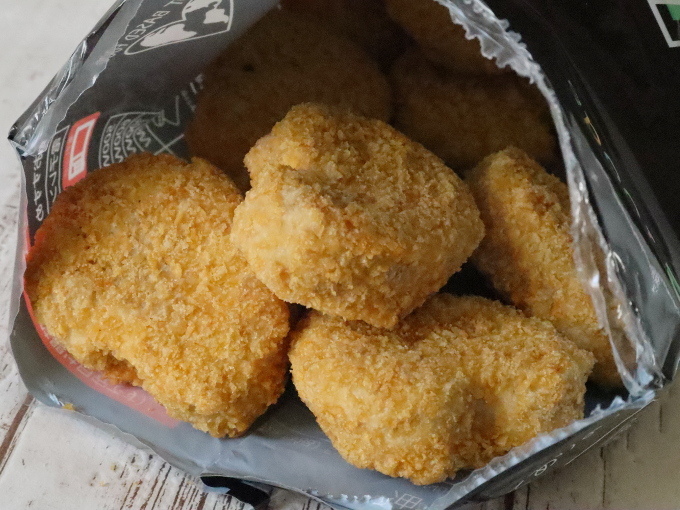 I tried the frozen type.
You can fry frozen nuggets in oil, but it's nice to just heat them up in a toaster!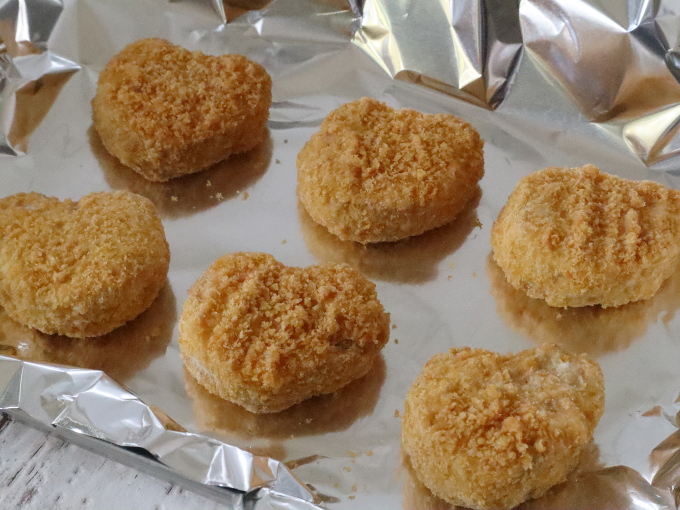 Place the frozen nuggets on a plate lined with aluminum foil and heat in a toaster oven.This is all you need!You don't have to prepare oil or pots, and the kitchen doesn't get dirty.The cooking time can also be shortened considerably.Above all, it seems to be healthy because the calories are suppressed accordingly.
Tastes just like real chicken!
It looks just like a nugget!When you break it with your hands, it looks like chicken!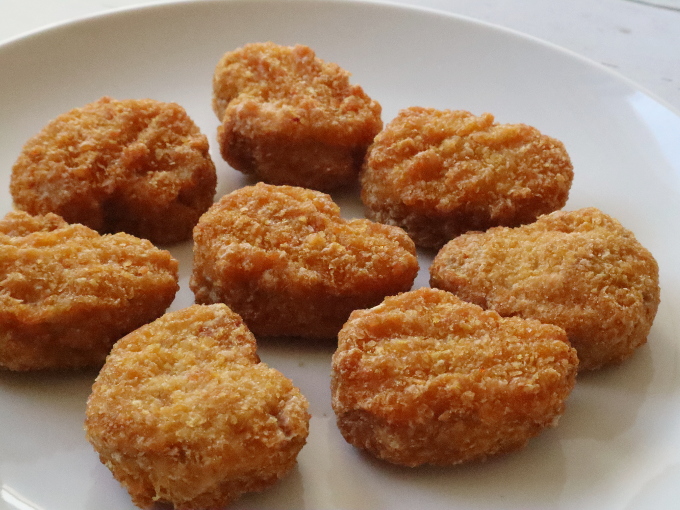 Can you tell by the image?The color is of course the same, but the feel of the fabric is the same as the real thing.Until now, fried chicken made with soy meat had a soy smell, was greasy, and the texture was a bit far from the real thing, but the technology has finally come this far!I was surprised with.This is a level that you will never understand unless you are told, it is amazing.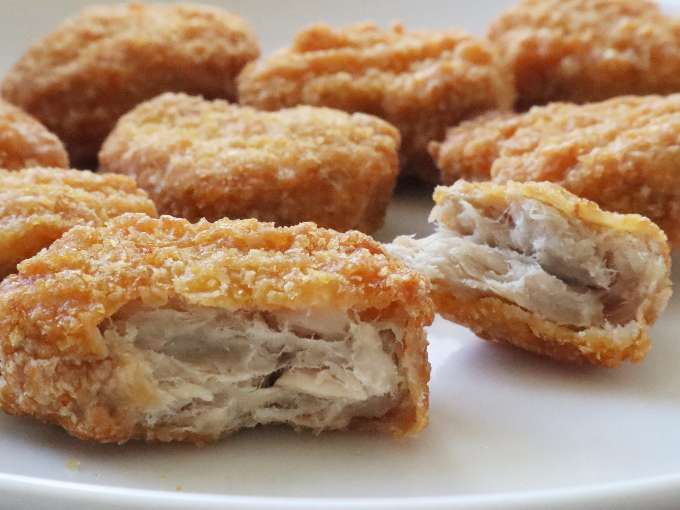 Store menus can also be taken out
In the store menu, both in-store and takeout, XNUMX pieces of ever chicken nuggets.And it comes with XNUMX sauces.
For takeout, it comes in a paper cup.Once the holder is assembled, the tray of sauces can also fit nicely, which is convenient.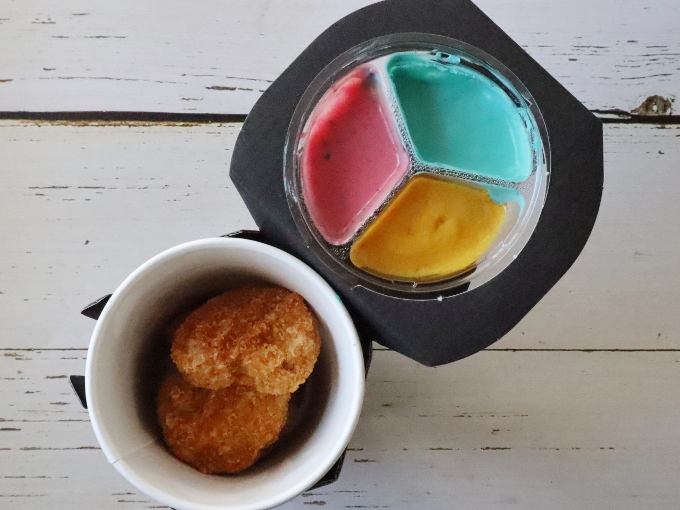 The color of the sauce is based on the color of the 2foods logo.It is said that he produced a feeling of junk.
◎ Yellow: "Plant-based cheddar cheese" that you can enjoy a mellow cheese feeling
◎ Pink: "Black pepper garlic mayo style" with a punchy taste and black pepper accents
◎ Blue: Refreshing "lemon tartare" where you can feel the sourness of lemon
Personally, even if I eat it without adding anything, ketchup and mayonnaise are simply good!