Japan's first organic vegan certification for cup yakisoba!
Wind and light "organic vegan yakisoba" that has acquired Japan's first organic JAS certification and vegan certification for cup yakisoba.The source of the old product was rich and delicious seafood using oyster and scallop extract, but with this renewal, it has become a vegan specification using kelp extract and has been certified.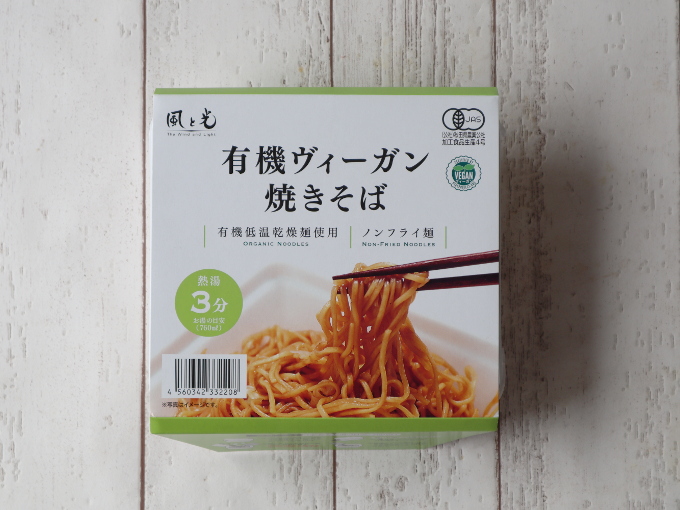 Ingredients: Organic noodles [organic wheat flour (domestic production), salt), organic seasonings [organic tomatoes, organic sugar, organic apples, organic soy sauce, organic brewed vinegar, salt, organic wheat starch, onions, kelp extract, yeast extract, Yeast extract powder, spices, carrots], kayaku [dried cabbage] / kansui
Completed in 3 minutes!Easy instant
The cooking method is the same as general cup yakisoba.It's as easy as pouring hot water, draining it XNUMX minutes later, and entwining the sauce.I tried immediately!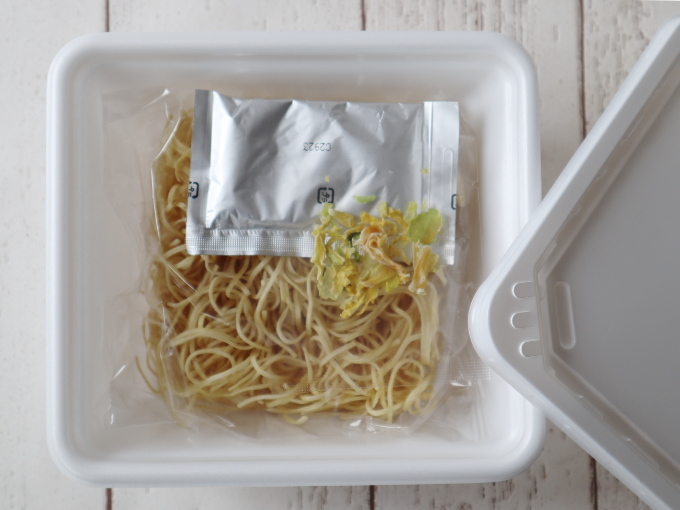 If you remove the outer shrink and open the lid, you will find three items: noodles, sardines, and sauce.First, take the noodles and bag out of the bag, put them in a container, and pour boiling water.
* Lift the claws at the corners of the lid in advance.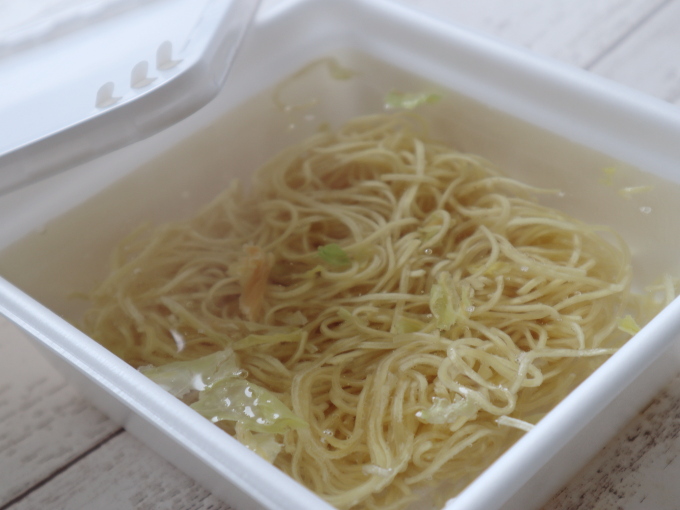 After 3 minutes, drain the hot water from the claws of the lid and drain it thoroughly.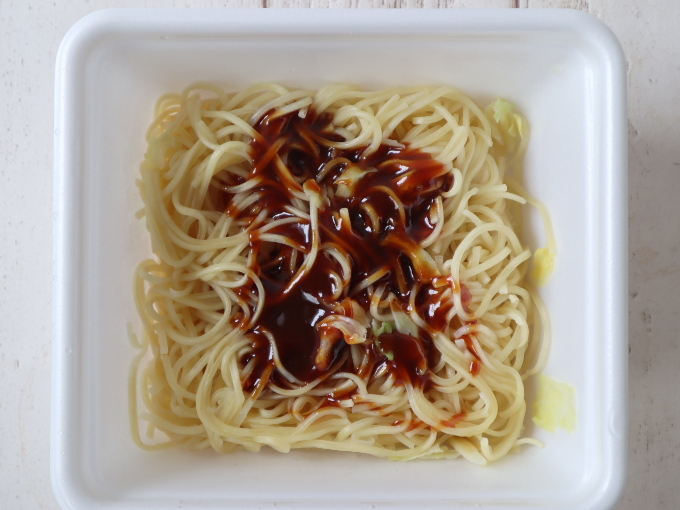 Open the lid, add the sauce, stir well and it's done!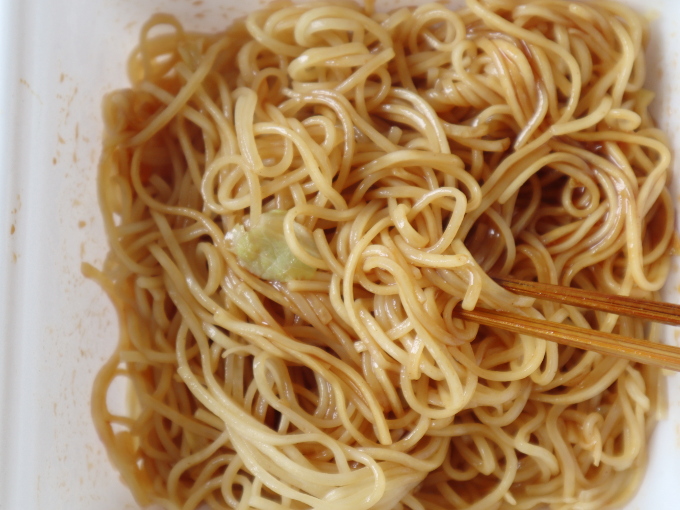 Gentle taste and no guilt!But I'm completely satisfied.After all, this non-fried noodles are smooth!It's delicious!It is said that the craftsmen who make Inaniwa udon, a specialty of Akita prefecture, have accumulated research and efforts to commercialize it.It has a low calorie of 307 kcal per serving, and the equivalent amount of salt is 2.9 g, which is 3% less than that of ordinary cup yakisoba.
Suffice it to say, there are a few dried cabbage.I think that ordinary instant yakisoba has the same feeling, but I would be happy if you could add a little more.
Arrange a little vegetables
If you have time, add some vegetables.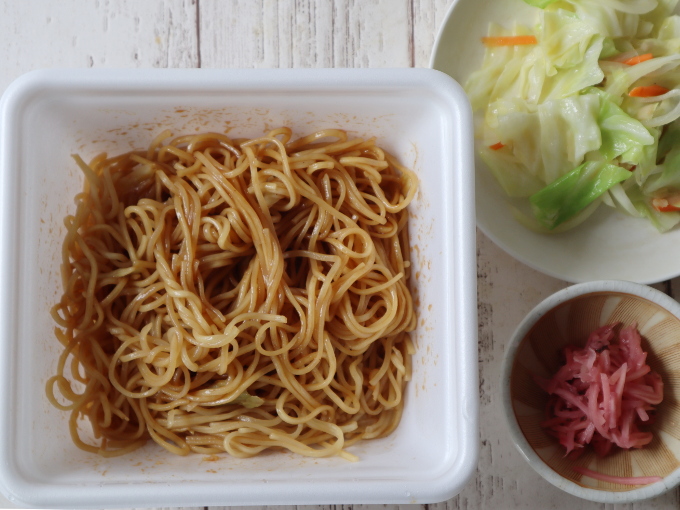 Simply entangle your favorite vegetables that have been fried in advance with the finished noodles.This alone will make you more satisfied and improve your nutritional balance.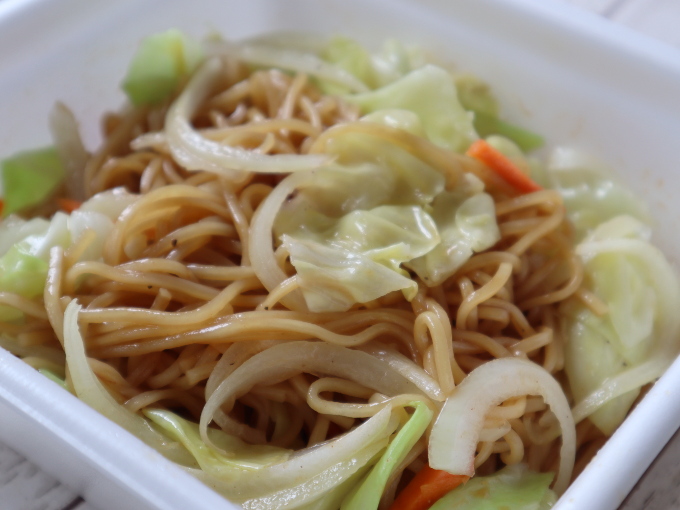 If you have a lot of trouble, try transferring it to a plate!If you put red pickled ginger on it, it will be a dish that you can't think of as an instant.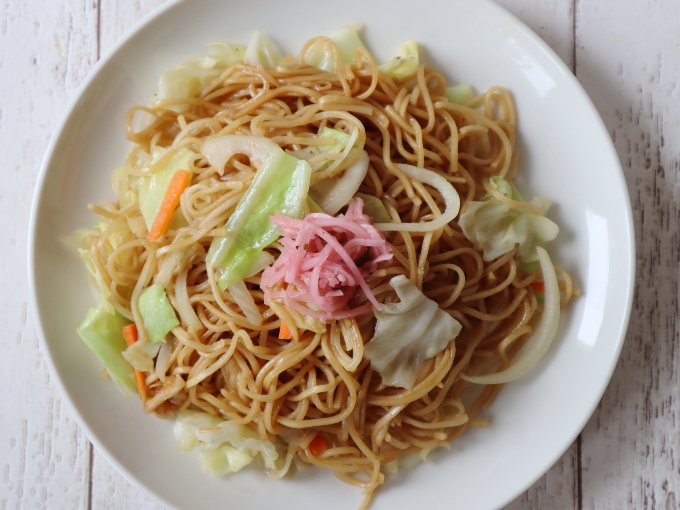 Instant foods are useful when you are busy and have no time to cook, or when you are hungry in the middle of the night.I want to stockpile it in case of a disaster.Instant food has a junk image, but if it's organic and vegan instant, it might be good once in a while! ??I think.
The price is a little high at 500 yen (excluding tax), so I hope it will be even more affordable in the future!