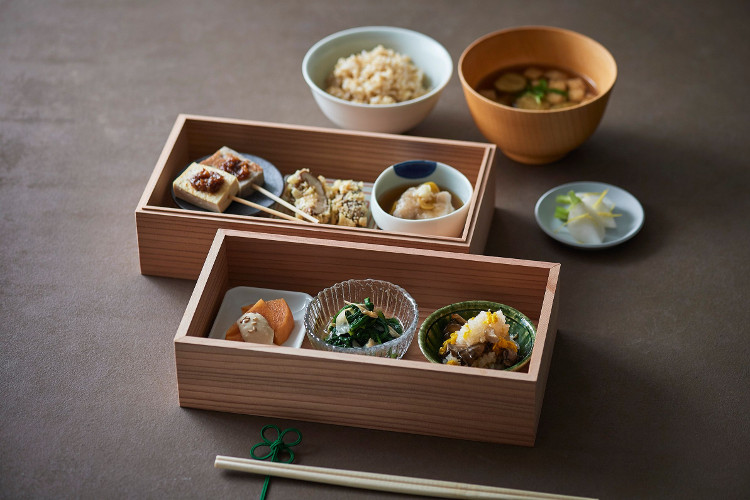 The Japanese-style vegan restaurant "Brown Rice" operated by Neal's Yard Remedies in Omotesando will offer a course menu "Hare no Hi Gozen" (1 yen including tax for one person) that will be beautiful to eat on a special day in February 3,800. Start from 2022th (Tuesday).You can enjoy your meal slowly with the course tailoring.
Brown rice usually offers three types of set meals: "Ichiju Sansai," "Seasonal Vegetable Steamed Set," and "Seasonal Vegetable Curry."This Halle's Day Gozen is a menu that is different from such a set meal, and we hope that you will make a reservation in advance and enjoy your meal time with friends and entertainment slowly. ..
Since 2003, Brown Rice has been working to convey the goodness of vegan cuisine centered on vegetables and soybeans that have been eaten since ancient times in Japan.Japanese food is a world-class culture that was registered as an intangible cultural heritage of UNESCO in 2013.I would like to convey the splendor of Japanese food even with brown rice.
Halle's Day Set
"Hare no Hi Gozen" is made with a menu that makes it beautiful to eat even in special occasions, starting with "seasonal sushi" and progressing to "one set", "second set" and "dessert" slowly. It is a new menu of brown rice for the day when you want to enjoy your meal.
While keeping the style of vegan Japanese food, each dish is composed with consideration for the five methods of cooking Japanese food (raw food, simmered, grilled, fried, steamed) and five tastes (sweetness, spiciness, acidity, saltiness, bitterness). doing.Noriko Araki, a cook, supervised the menu, and the composition was completed with an awareness of the seasonal feeling that she is good at.
■ Contents: Seasonal sushi
One set (three kinds of spicy dishes) / Second set (baked food, fried food, steamed food) / Brown rice, bowl, pickles / Matcha and sweetness
■ Price: 3,800 yen (tax included) / serving
* Reservations are required in advance
Seasonal sushi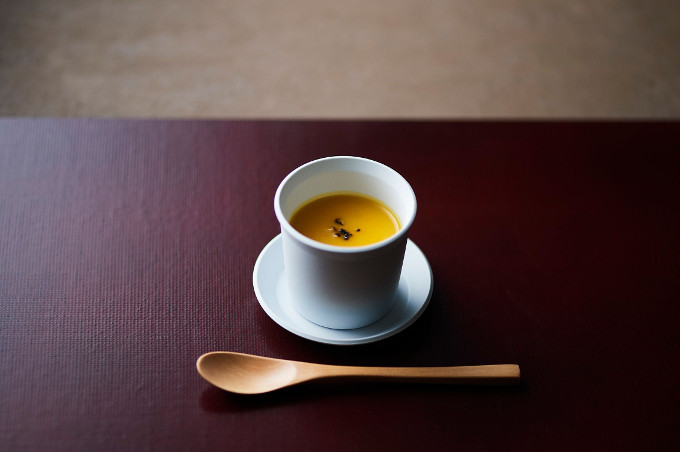 The first "seasonal sushi" is a dish that warms the body and stimulates the appetite using the most delicious vegetables and kelp stock, which is the basic stock of brown rice at that time.
Ichizen (3 kinds of spicy sauce)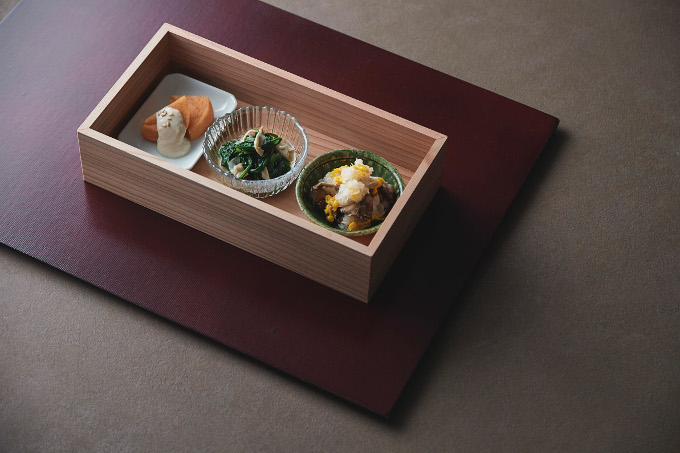 Aemono is a cooking method that can propose a wide variety of eating methods as a method of "raw food" among the five methods of Japanese food.For brown rice, we use "seasonal fruit with white sauce", "seasoned yuba roll", and "sleet with grated daikon radish".
Ninozen (grilled, fried, steamed)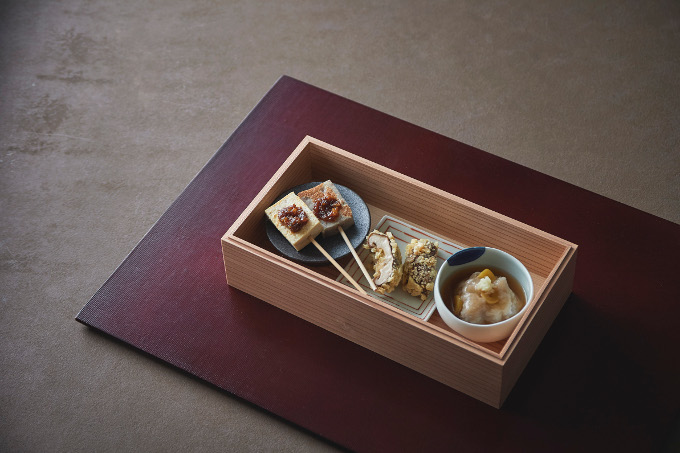 The second set includes "steamed food," "fried food," and "baked food," which are voluminous and can be enjoyed as a side dish of brown rice.The steamed food is "root vegetable bun ankake", and the fried food is "arare fried", which is made by finely crushing organic brown rice okaki and making it into a batter.For pottery, we offer "Dengaku-style with walnut miso", which is a mixture of brown rice original miso and walnuts.
Dessert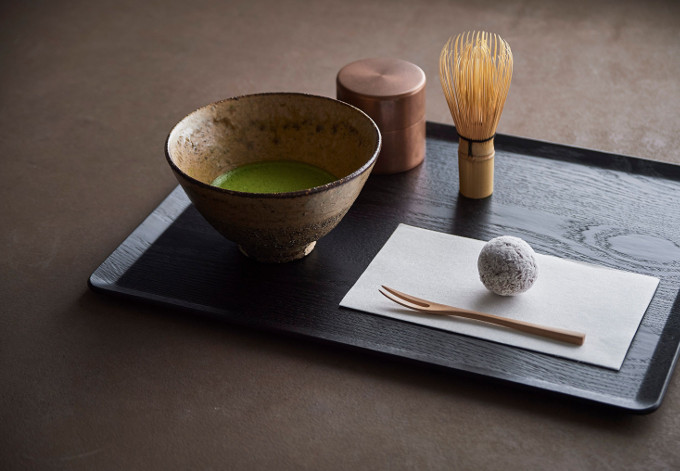 For dessert, we offer "Smiley bean paste" and matcha from the popular vegan Japanese sweets shop "Wa no Kashi Meguri" in Yoyogi-Uehara.Matcha, which is attracting worldwide attention as a health food these days, is recommended to be served by yourself and enjoy the time.For the first time, this initiative has made it possible to offer "Wa no Kashi Meguri" vegan Japanese sweets at restaurants.
About brown rice
Brown rice is a Japanese food that Neal's Yard proposes.We will deliver food that makes people and the earth healthy and beautiful by utilizing the wisdom of food from ancient Japan that values ​​the four seasons.I want to leave a rich food in the future Eating is living.We would like to convey the idea of ​​whole food, which does not lead to food loss, and the deliciousness of food, so that we can continue to enjoy the blessings of nature even after decades.
Bringing the splendor of Japanese food to the world Brown rice Japanese food is carefully prepared with seasonal ingredients and rich cooking methods in a fermented and plant-based style that has been the wisdom of food since ancient times.By letting our bodies receive the energy of seasonal ingredients as they are, we can keep our minds and bodies healthy.