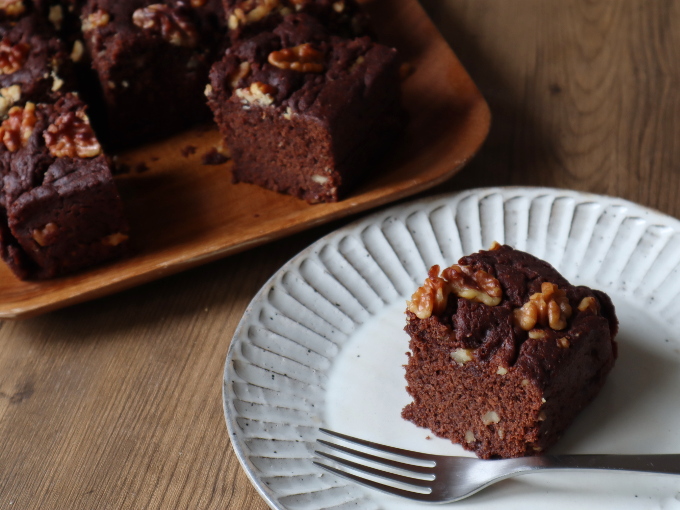 Handmade brownies
Brownie is a chocolate cake that has long been popular in American homes.Even if you say cake, the sponge is just between cookies and cakes.The standard one is cut into a square shape, and it is often lined up with donuts and cinnamon rolls at coffee shops.
Some dough is mixed with nuts and dried fruits and baked, chocolate chips are added, and the surface is iced!There are various recipes and arrangements.Fudgy Brownie, which is sweet and moist, is popular in the United States, but it may be a little too sweet for Japanese people.The good thing about handmade products is that you can adjust your favorite labor and quantity instead of general white sugar.Generally, cakes include eggs and milk, and chocolate contains dairy products, but with cocoa powder without adding chocolate.You can make it with only plant-derived ingredients, such as using vegetable oil instead of eggs and soy milk instead of milk!
Ingredients
Organic flour 250g
Organic cocoa powder 45g
Organic walnut 150g
Organic soy milk 200ml
200ml oil
Sugar beet sugar 180g
Baking powder (aluminum free) 1 teaspoon
How to make
Add flour (wheat flour, cocoa powder, BP) to the bowl and mix with sugar beet.
Add soy milk and oil and mix.
Finely chop the lightly roasted walnuts and add to the dough.
* Leave a little for decoration.
Pour the dough into a mold, flatten and decorate with walnuts.
Bake in an oven preheated to 180 ° C for 30 minutes.
* Please adjust the degree of baking and the baking time.