Wind and light x SORANOIRO
Wind and light x SORANOIRO, a dream collaboration has come true!
Established in 2011, SORANOIRO is a popular ramen shop with three branches in Tokyo.The signboard menu is Japan's first "Veggie Soba" (noodles, soup, and ingredients are all vegetables) and "Vegan Veggie Soba" (ramen that does not use any animal ingredients). In 3, it was the first ramen restaurant to be listed in the Michelin Guide Tokyo Bib Gourmand.Chihiro Miyazaki, the owner of SORANOIRO, has developed more than 2014 types of ramen.After more than 200 years of training at Ippudo, he opened SORANOIRO in Kojimachi. "Veggie Soba" created a whirlwind in the industry.
Kaze to Hikari "Vegan Juiceless Dandan Noodles" was born under the supervision of Mr. Chihiro Miyazaki of SORANOIRO.The spices used in the sauce are carefully selected to create a finish that has both umami and spiciness.
Vegan Soupless Dandan Noodles
Vegan soupless dandan noodles supervised by Mr. Chihiro Miyazaki of "Soranoiro", the pioneer of vegan ramen.Low-temperature dried noodles made with small amount of organic wheat are non-fried.The spicy and rich sweet sauce, chewy thick noodles, and the texture of soy meat are irresistible.Sprinkle with sansho (Japanese pepper) if desired and enjoy.It's a gem that boasts a strong flavor that you wouldn't believe is vegan!Vegan certified product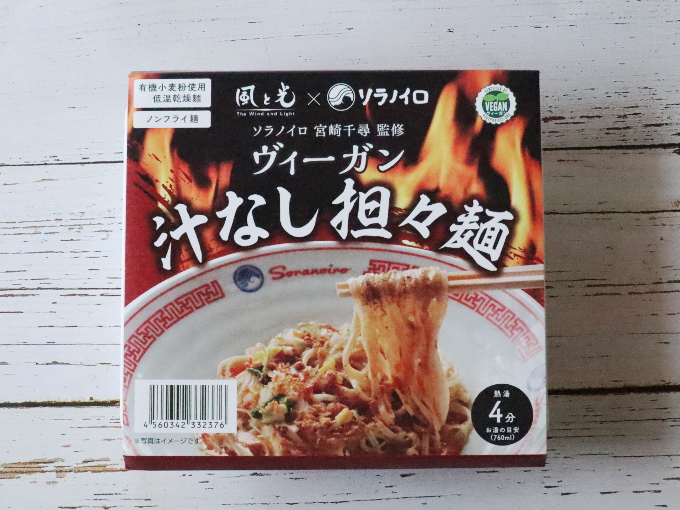 Ingredients: Noodles [organic wheat flour (Australia), salt], attached seasonings [sesame paste, sake, chili oil, sugar, miso, vegetable oil, salt, garlic, sesame, kombu seaweed, dried shiitake mushrooms, (partly sesame, soybeans including) quick [defatted soybean processed product, corn, bok choy, red bell pepper, green onion, Japanese pepper powder, (contains wheat and soybeans in part)]
Conditioning method:
① Lift the 6 tabs on the corners of the lid, then open the lid and take out the noodles, sauce, hanazansho, and kayaku.
② Remove the noodles and yakitori from the bag and transfer to a container.Slowly pour boiling water up to the inner line and cover with a lid. (Approximate amount of hot water required: 760ml)
③ After 4 minutes, discard all the hot water from the claws of the lid.
④Finally, open the lid, add the sauce and Hanazansho and stir well before serving.