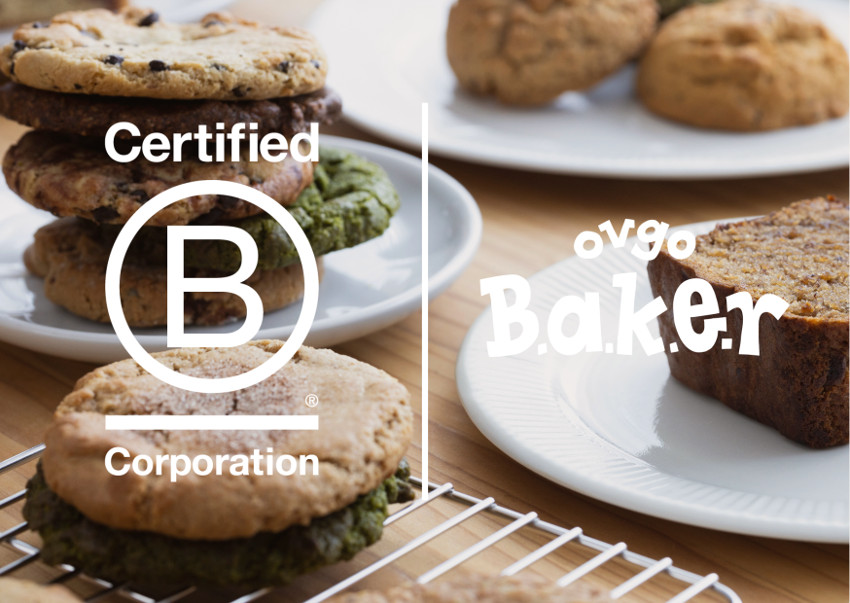 ovgo Co., Ltd., which operates the American bake shop "ovgo Baker", has acquired "B Corp certification", an international certification system for companies with high public interest that considers society and the environment.This certification is a global certification that can be obtained by companies that meet the strict standards (five indicators of governance, employees, community, environment, and customers) set by the US non-profit organization B-Lab. Became the second certified company.
Plant-based cookies contribute to decarbonization?
Since its founding, ovgo Baker, an American bake shop operated by ovgo Co., Ltd., has a mission to provide enjoyable food options that are friendly to the environment, animals, and all people. We manufacture and sell baked goods, mainly cookies, using ingredients produced in Japan.
In acquiring the "B Corp certification" this time, the fair and just internal system, the highly transparent financial report, the use of organic and local raw materials with low environmental impact, and the offsetting of carbon dioxide emissions every year, etc. was evaluated.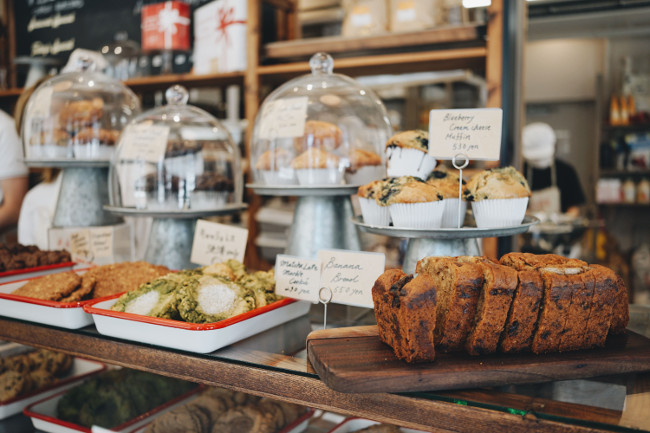 Carbon dioxide emissions in the food industry are not only those emitted during transportation, but also greenhouse gas emissions in livestock farming have become a major issue, accounting for 18% of the total greenhouse gas emissions in the world. , including the production of related products, accounts for 21-37% of the total (13% for all export means).The livestock industry uses 20% to 33% of the world's fresh water, and uses 26% of the earth's land due to repeated deforestation to secure the land necessary for grazing. This is also raised as an issue, and the importance of choosing plant-based foods as one of the actions to solve these social issues is increasing.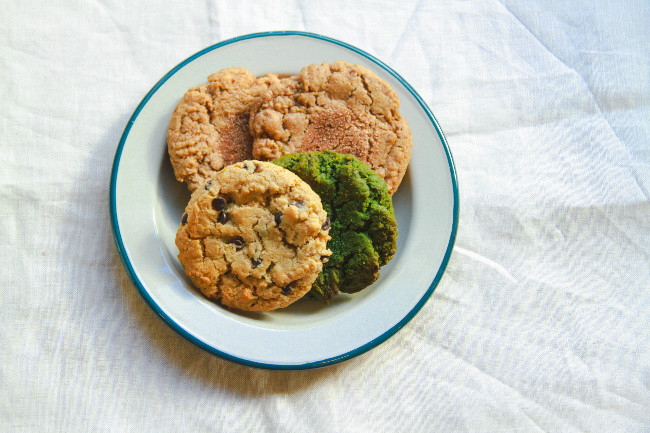 At ovgo Baker, we collaborated with Quoncrop, which is working to visualize sustainability data, and conducted a life cycle assessment analysis of the cookies we manufacture.As a result of measuring the greenhouse gas emissions from cookie raw material procurement to sales and disposal, ovgo Baker's chocolate chip cookies are compared to general chocolate chip cookies manufactured using dairy products such as eggs and butter. It turned out that we were able to reduce greenhouse gas emissions by about 84%.
Similar results have been obtained for other flavors with low greenhouse gas emissions, and in the future, we plan to indicate that the product has a low environmental impact on product packages and our own EC site.
Brand vision
The goal of ovgo BAKER is to provide enjoyable food options that are kind to the environment, animals, people, and the future.
We wanted to create a product that could be shared with people of all backgrounds, including people with various dietary restrictions, such as vegans, vegetarians, allergies, and religious reasons, and that was kind to the earth and animals, and that everyone was happy. is to provide delicious and enjoyable food.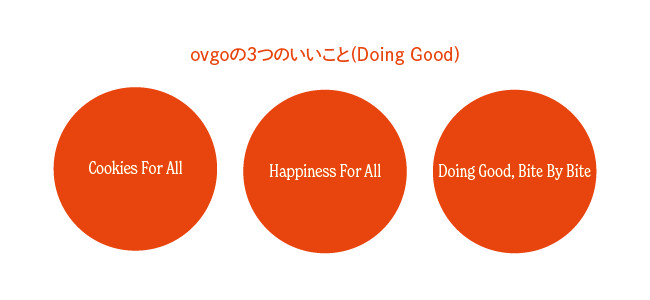 [PROMISE]
◎We will happily and comfortably provide what we think is delicious and that we want to eat.
◎ We provide plant-based products so that everyone with various restrictions can eat.We only use materials that do not exploit animals.
◎ We use organic ingredients as much as possible.
◎We will take necessary actions to minimize environmental impact.
◎Regardless of attributes, we respect individual differences, find value, and create an environment where all employees can fully demonstrate their abilities.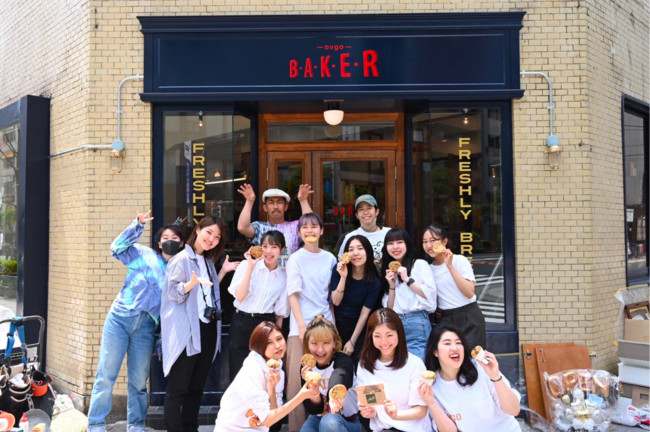 Message from Mr. Mizobuchi, CEO of ovgo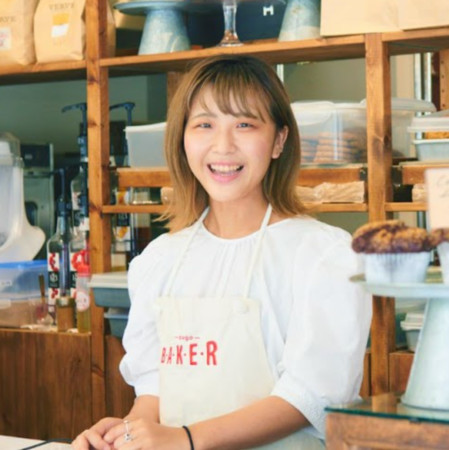 First of all, I am very happy that our company acquired a B Corp.Of course, it is important to work on big issues such as environmental and social issues and businesses that generate profits, but we do not want to neglect our staff, customers in front of us, and people around us for that big goal. For us, B Corp's five evaluation axes (environment, employees, customers, regions, and governance) are well-balanced, and we believe that it is a good guideline for becoming a "good company" of global standards. I got it.First of all, we believe that making people around us happy, gaining their understanding and support, and making a big movement will lead to long-lasting changes in society.
With the acquisition of B Corp, we will establish a leading position as a company working on sustainability in Japan, and we will further accelerate the spread of sustainability and plant-based with B Corp as a starting point.
In addition, overseas, where we will be expanding in the future, by acquiring B Corp, a global certification, we will be able to visualize that the brand is working on sustainability, which will lead to increased trust from overseas consumers and brand understanding. am thinking.
Taking this opportunity, we will work together with our staff to create a future where everyone can have fun, deliciousness and kindness through plant-based cookies.
What is B Corp
A certification system provided by B lab, an NPO founded by Stanford University graduates in 2006.Certification is given only to "good companies" for all stakeholders, not only shareholders, but also employees, customers, the environment and the community.It was launched with the aim of redefining what it means to be "successful" in business and building a more inclusive and sustainable economy.The conditions for certification are to conduct business in consideration of the environment and society by clearing certification tests consisting of five areas: governance, employees, community, environment, and customers. are required to meet
About ovgo BAKER​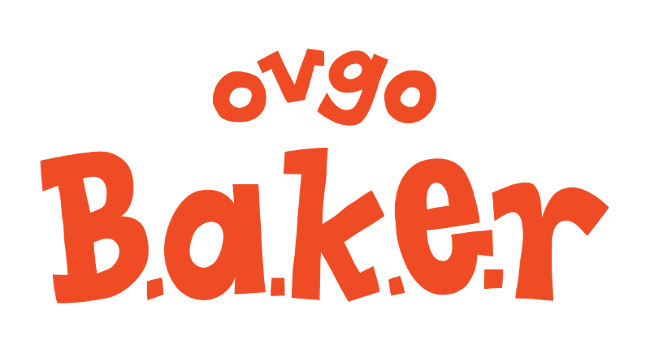 An American vegan bake shop that sells baked goods such as cookies, muffins and banana bread, with the motto of being friendly to the environment and our future and being edible by everyone.The origin of the company name is the initials of "organic, vegan, gluten-free as options".The idea is to make everyone happy by expanding various food options.
All ovgo Baker cookies are plant-based and made with organic, naturally grown or domestically produced ingredients whenever possible.Dairy products such as butter and milk are said to have a higher environmental impact in the production process than plant-based ingredients. In particular, the environmental impact of the livestock industry is considered to be high.One of the reasons for this is that cattle breeding, which is the core of the livestock industry, requires deforestation to secure the land necessary for grazing, the use of large amounts of water, contamination from cattle excrement, and the burping of cattle. The methane gas contained in the water also contributes to global warming.It is said that we can contribute to climate change, which is progressing day by day, by reducing the amount of meat we eat, milk and dairy products, shifting to plant-based foods, and reducing the production volume of the livestock industry.
It is said that the livestock industry affects not only environmental problems but also food problems and poverty problems. sells plant-based cookies.
▽ovgo Baker
https://ovgobaker.com/