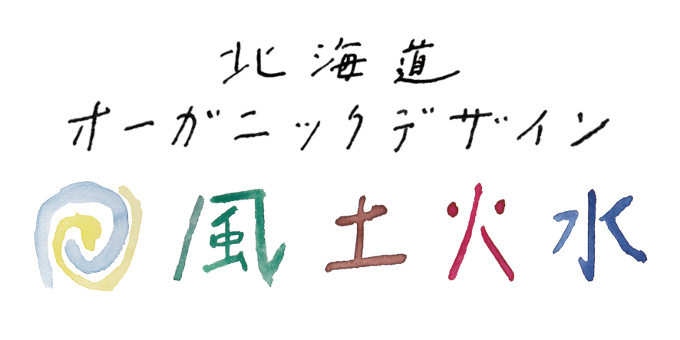 Agrisystem Co., Ltd. will release a new food series "Fudo Kasui" made from organic agricultural products and organic livestock products from Hokkaido on April 2022, 4 (Friday).
Since its founding in 1988, Agrisystem has set "for the children of the future" as its management philosophy, and focuses on organic farming and environmental conservation, centering on the millet wholesale business that collects and sells beans and wheat from contract farmers. We have developed a variety of businesses to popularize type farming.Taking advantage of our experience and accumulation so far, we have set the activity centered on the organic of Agrisystem as "Hokkaido Organic Design Climate, Fire and Water", and we really want to leave it to future children from Hokkaido, organic food that pleases the heart and body. Will be delivered nationwide.The main raw materials of all the products we develop are organic raw materials from Hokkaido.
Organic beans series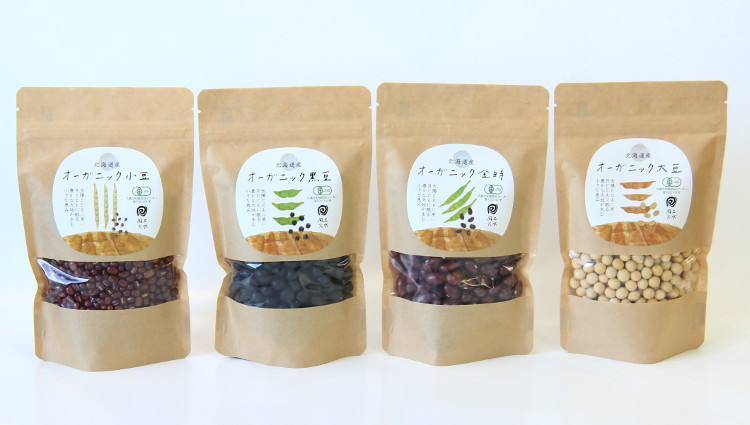 Not only in the production process, but also in the bagging process of our own factory, we have obtained organic JAS certification and commercialized it under complete control.All products use beans grown directly under contract with each farmer.
■ Hokkaido organic red beans 200g
A variety called "Murasakise", which is characterized by a small amount of astringent ingredients (tannins) and has an elegant taste.For processing into bean paste or making red rice.
■ Hokkaido Organic Black Beans 200g 
It is characterized by its large size, less simmering, and strong sweetness.For cooking such as simmered dishes and side dishes, as well as ingredients for Japanese sweets.Black beans are rich in anthocyanins.
■ Hokkaido Organic Kintoki 200g
Kintoki beans are often cooked sweetly, but they also go well with Western-style seasonings.Kintoki beans are also rich in dietary fiber and polyphenols.
■ Hokkaido organic soybeans 200g
It is characterized by its plump and sweet taste, and is ideal for cooking miso as well as for cooking such as boiled beans and side dishes.
Organic powder series
Uses 100% contract-grown organic wheat flour from Hokkaido.You can make bread and sweets that have a taste and flavor with little miscellaneous taste and are elegant and light.We will deliver safe and secure wheat flour to the children of the future.
■ Hokkaido Organic Soft Flour 500g / 1kg
The precious soft flour made from organic wheat from Hokkaido.For cake shop sweets, tempura, etc.
■ Hokkaido organic strong flour 500g / 1kg
The precious organic wheat from Hokkaido is a strong flour made from raw materials.Characterized by a yellowish powder color, you can make chewy bread.
■ Hokkaido organic whole grain flour (ground stone mill) 500g / 1kg
Slowly low-temperature milling with a stone mill from our own factory "Mugi no Kaze Kobo" so that you can take in the original taste and nutrition of wheat.
■ Hokkaido Organic Bran (Bran) 500g / 1kg
Condensed wheat flavor.It is finely ground and easy to use for bread and sweets.It contains a lot of nutrients that tend to be deficient.
■ Hokkaido organic whole grain pancake (sugar-free) 500g
We use organic whole grain flour from Hokkaido (ground stone mill), grilled salt from Hokkaido Okhotsk seawater, and aluminum-free baking powder.
■ Hokkaido Organic Gen Wheat 600g
Mix it with rice and cook it for a bubble wrap texture.Boiled and topped with salad.You can also mill yourself and bake bread with freshly ground flour.
Processed soybeans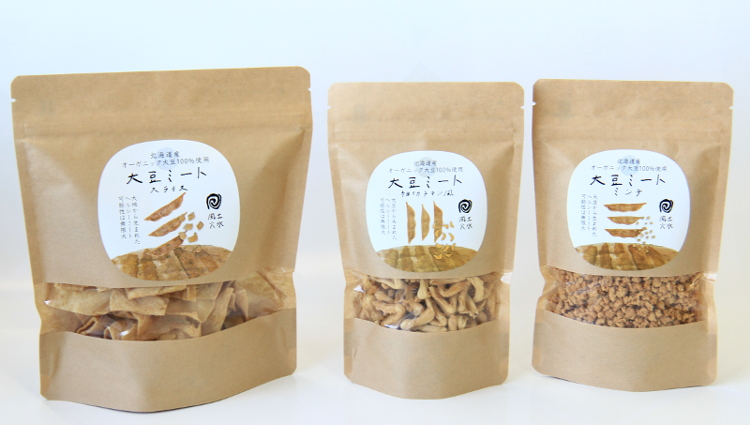 It is an additive-free ingredient that uses whole organic soybeans grown under contract from Hokkaido.It is very healthy because the oil and fat content is greatly reduced during the manufacturing process.With a meat-like texture, it can be used for various dishes such as Japanese, Western, and Chinese.
■ Hokkaido organic soybean 100% soybean meat (slice type) 80g
It has a texture similar to sliced ​​pork.For grilled ginger and fried food.
■ Hokkaido organic soybean 100% soybean meat (minced meat type) 80g
It has the same texture as minced meat.For hamburger steak and tofu mapo tofu.
■ Hokkaido organic soybean 100% soybean meat (shredded chicken type) 80g
It has a chicken-like texture.For kakiage, tsukudani, etc.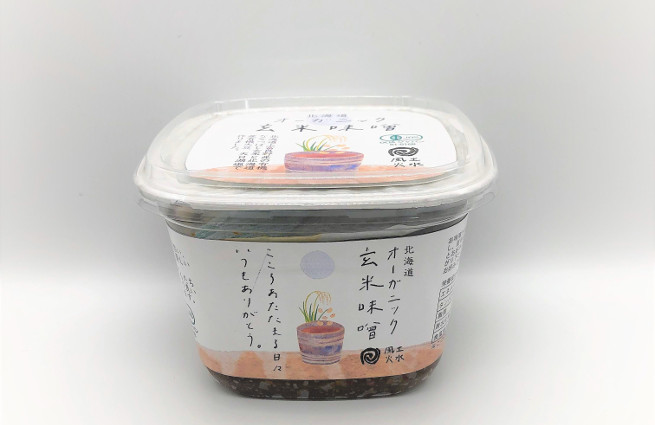 "Brown rice miso" made from contract-grown organic soybeans from Hokkaido and organic-grown Nanatsuboshi brown rice from Kamifurano, Hokkaido.It is characterized by the deep taste and richness of natural brewing, and the gentle mellow taste and aroma rich in minerals.
■ Hokkaido Organic Brown Rice Miso 600g
Variety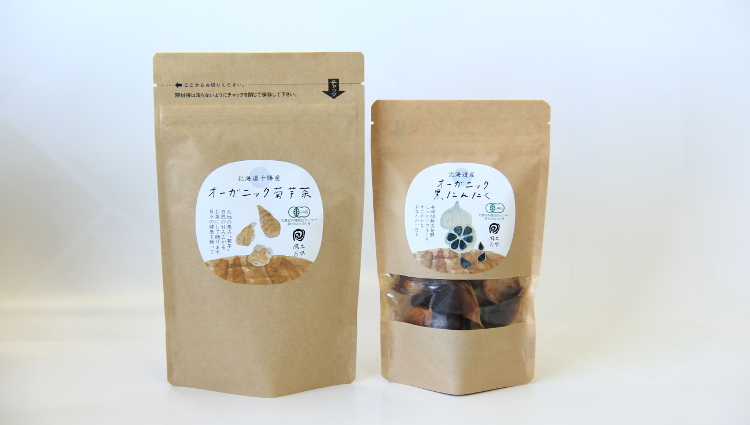 ■ Tokachi Organic Jerusalem Artichoke Tea 80g
We use only Jerusalem artichokes cultivated at "Biodynamic Farm Tokapuchi" in Tokachi, Hokkaido for more than 3 years without using chemically synthesized pesticides and fertilizers.
■ Hokkaido organic black garlic 100g
Garlic grown at "Biodynamic Farm Tokapuchi" was processed at our own factory.