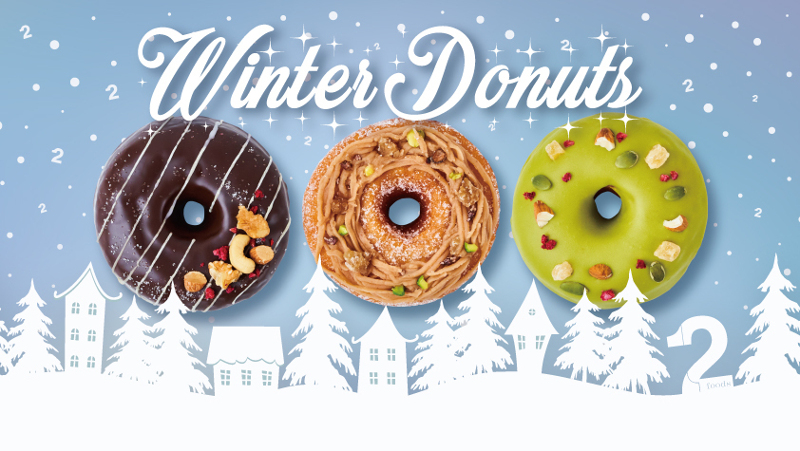 From the plant-based food (plant-based ingredients) brand "2foods" (two foods) based on the concept of "healthy junk food," "maple chocolate nut donuts," "monkey nuts," and "pistachio lease donuts" have joined the ranks! It will be on sale only in winter from November 2021, 11 (Monday).
None of the 2foods donuts use animal ingredients such as milk or eggs.
* Some allergens that cannot be avoided in the manufacturing process are displayed.
Using low trans fatty acid oil, the oxidation value is controlled by a special machine and it is fried healthy.The dough uses organic sugar and low GI agave syrup, which contain more minerals than white sugar, to achieve healthy and junk donuts.
Maple chocolate nut donuts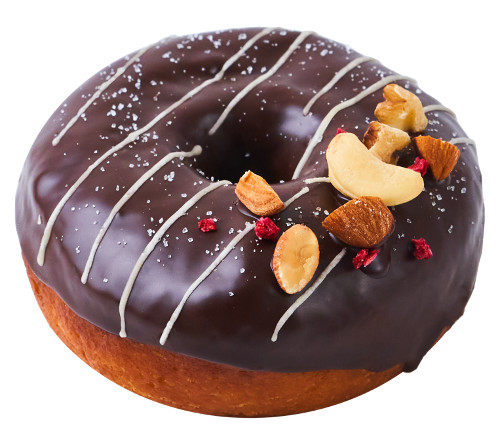 Cinnamon sugar is fragrant
Maple chocolate nut donuts
The chocolate-coated donuts were topped with maple-flavored glaze and nuts.A winter-only donut studded with cinnamon sugar.
* Although milk is not used as a raw material, milk is listed as an allergen because contamination is unavoidable in manufacturing.
Take-out: 464 yen (tax included) / Eat-in: 473 yen (tax included)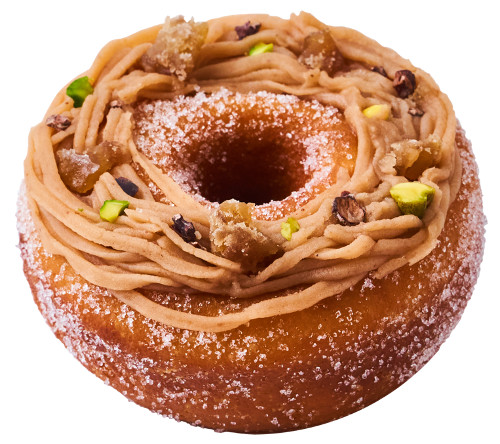 Adults with a scent of craft rum
Montblanc donuts
On top of the donuts sprinkled with organic sugar, I squeezed a generous amount of Mont Blanc filling using organic craft rum.Marron glacé, superfood cacao nibs, and pistachios are used as toppings to make a wreath.A rich winter-only donut for adults with a scent of Western liquor.
Take-out: 464 yen (tax included) / Eat-in: 473 yen (tax included)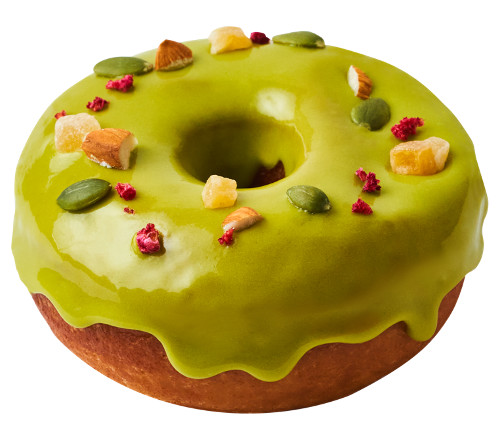 Sprinkled with nuts and dried fruits
Pistachio wreath donuts
Freeze-dried raspberries and nuts are colorfully topped with pistachio-flavored glaze that looks like a wreath.A winter-only donut with colorful toppings on the green pistachio.
Take-out: 518 yen (tax included) / Eat-in: 528 yen
Plant-based food brand "2foods"
2foods is a plant-based food brand from Japan with the concept of "healthy junk food".Efforts to realize an ethical society, addictive deliciousness, exciting beautiful visuals, rich scents that are appetizing, affordable price and familiar existence "Yummy", ethical such as consideration for the global environment We are disseminating a new plant-based food culture for the realization of a new society.