"My Ramen Glass Noodle Shop" opens in Shibuya!
"My Ramen Glass Noodle Shop" opened on the 2021st floor of Shibuya Marui on Sunday, March 3, 14!Supervised by Bib Gourmand's ramen shop "Menya Shichisai".We offer two types of noodles: healthy glass noodles with zero animal extract and zero umami seasoning, edible flowers and seasonal vegetables, "bouquet noodles" to eat, and "plain" with plenty of sesame and Kujo green onions. did.You can choose from glass noodles and original noodles for noodles, and soy sauce, salt, and miso for soup.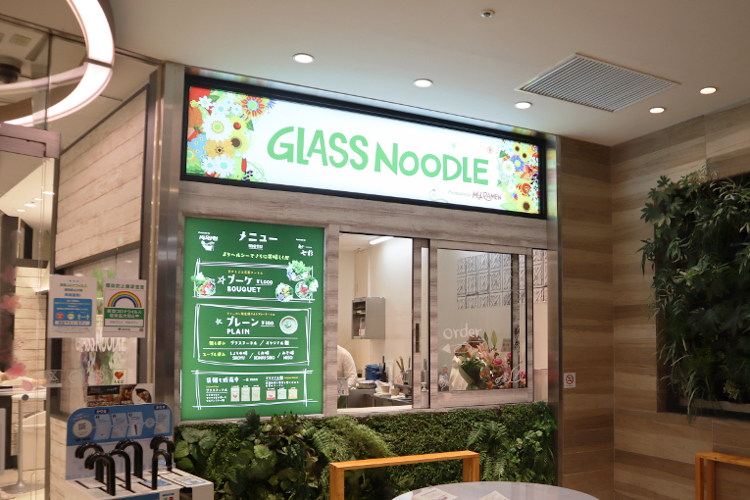 ■ Comment from producer Hiroaki Sakata (owner of "Menya Shichisai")
Glass noodles are a new genre in the ramen industry.We chose purely domestic starch noodles without using rice noodles because of their overwhelming taste.Enjoy your meal beautifully and elegantly from within your body.In this era when I was able to reconsider the importance of time, I made a wish for the bouquet so that I could fully enjoy the stress-free and guilty meal time.Beautiful is delicious, delicious is fun. So that as many people as possible can smile.
A new genre of ramen! GLASS NOODLE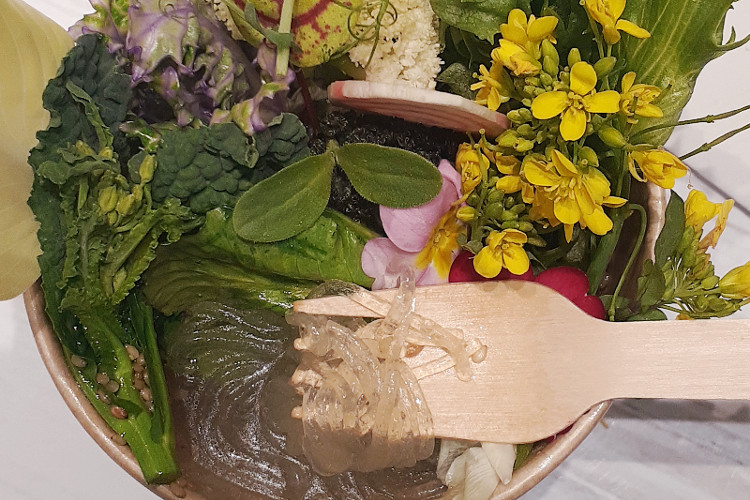 My Ramen offers instant vegan noodles with zero animal extract, zero umami seasoning and zero alcohol.With Hiroaki Sakata, the owner of the Michelin Bib Gourmand ramen shop "Menya Shichisai" as the producer, the high-quality noodles produced after a two-year development period have about half the calories of instant noodles on the market. According to the company's research).There are two types: non-fried original noodles using wheat and gluten-free glass noodles made from potato starch.
GLASS NOODLE is a gluten-free noodle with a new chewy texture and a smooth throat.Without using wheat flour, sweet potatoes from Kyushu and potato starch from Hokkaido are specially blended for ramen, and noodles are made at the vermicelli factory in Nara prefecture.We are particular about sun-dried fish and are full of the blessings of nature.
* The soup contains wheat ingredients.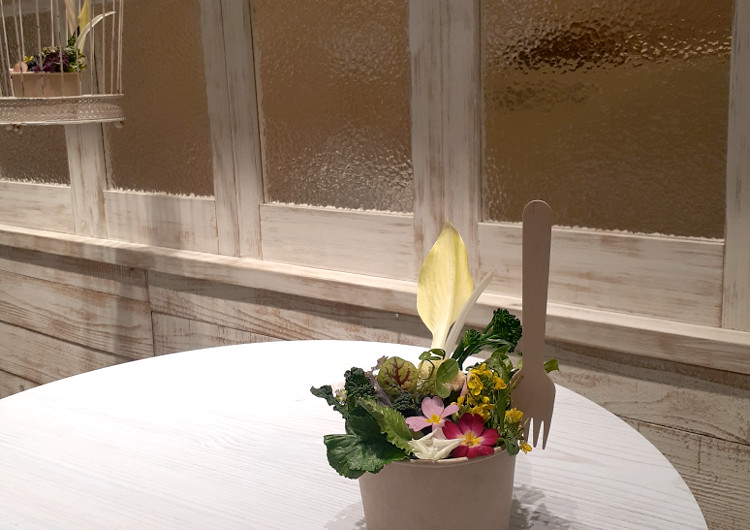 Eating bouquet "bouquet noodle"
An "edible flower" is an edible flower that is grown and edible.Not only for decorating dishes, but also for eating like vegetables, its high nutritional value is attracting attention.
The main menu "Bouquet" sold at "My Ramen Glass Noodle Shop" treats edible flowers rich in vitamins and dietary fiber and seasonal vegetables like a bouquet.Gorgeous and fun to look at!Soothing is delicious!It is a nutritious and healthy noodle.
Producer Hiroaki Sakata visited himself and used edible flowers carefully selected from growers.It is said that not only the taste of vegetables themselves becomes delicious during the season, but also the amount of important nutrients contained in them increases dramatically.Since edible flowers and vegetables are seasonal, the appearance will change depending on the arrival at that time, and the menu will allow you to feel the season at that time.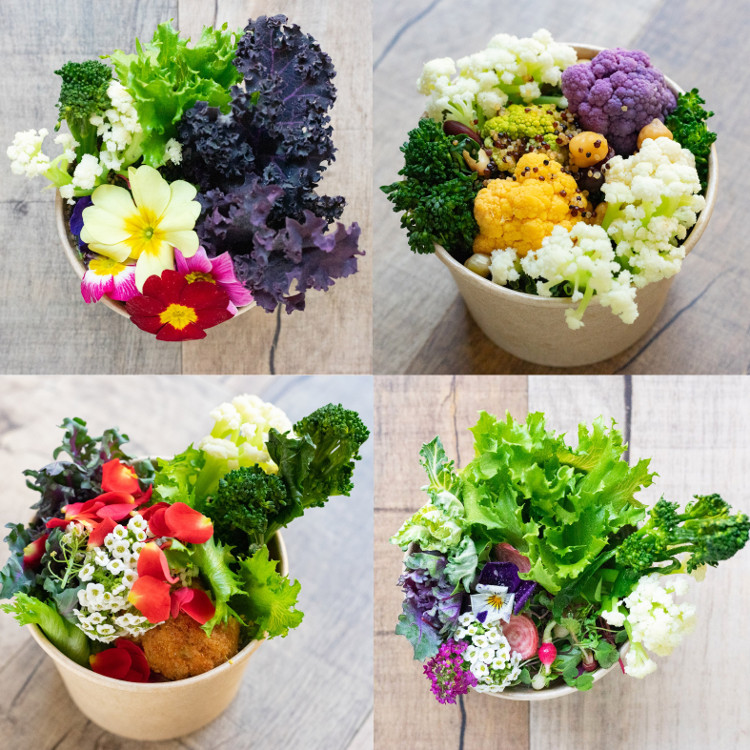 The origin of youth culture!Opened in Shibuya
The "My Ramen Glass Noodle Shop" has opened on the 1st floor of Shibuya Marui, the epicenter of trends in which young people create new fashions and cultures one after another.In Shibuya, which is crowded with young people, there are many restaurants such as fast food restaurants, ramen shops, and izakaya that you can easily eat.A pop food that fills your stomach easily like fast food.However, it is healthy, satisfying to eat, and delicious!You can enjoy such guilt-free noodles.
In addition to take-out, we also have a space where you can stand.You can also buy instant noodles.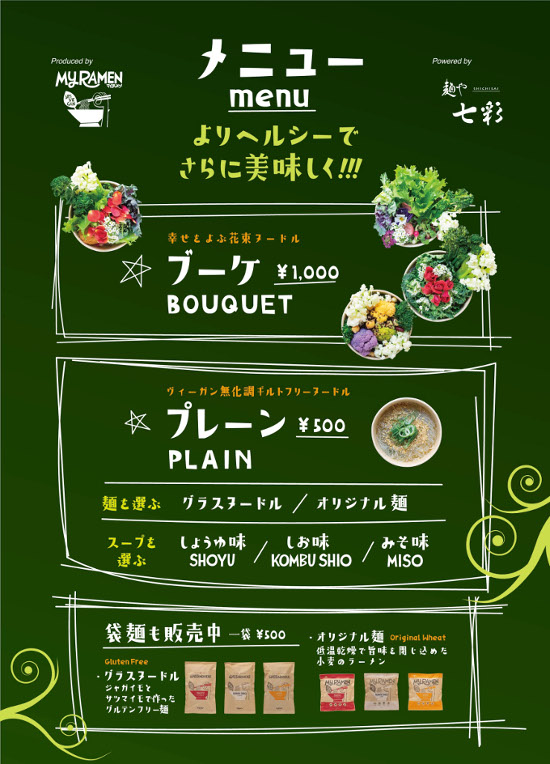 My Ramen Glass Noodle Shop
■ Address: 1-12-20 Jinnan, Shibuya-ku, Tokyo Shibuya Marui 1st floor
■ Business hours: 11: 00-20: 00 (for the time being)
■ Menu: Plain (500 yen including tax), Bouquet (1000 yen including tax)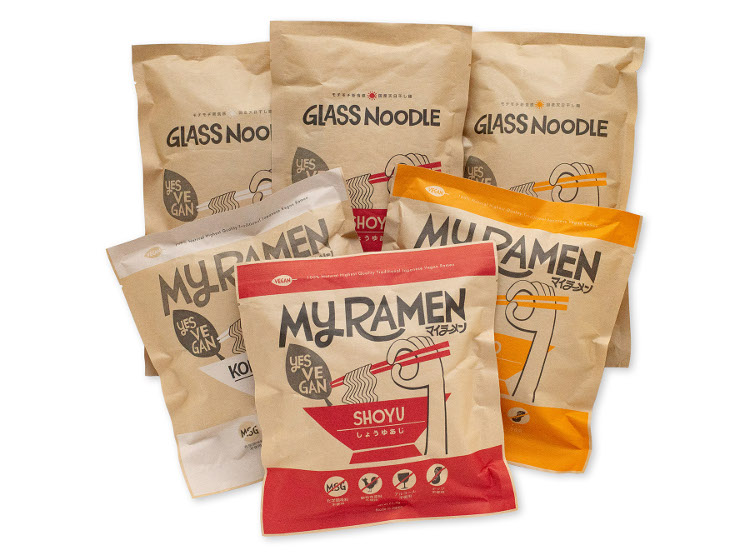 ■ My Ramen Original Noodles Soy sauce, salt, miso 500 yen each (tax included)
■ My Ramen Glass Noodle Soy sauce, salt, miso 500 yen each (tax included)
▽ My Ramen Official HP
https://myramen.company/
▽ My Ramen Glass Noodle Shop Instagram
https://www.instagram.com/myramenglassnoodleshop/
▽ My Ramen Instagram
https://www.instagram.com/myramencompany/
▽ My Ramen Twitter
https://twitter.com/myramencompany