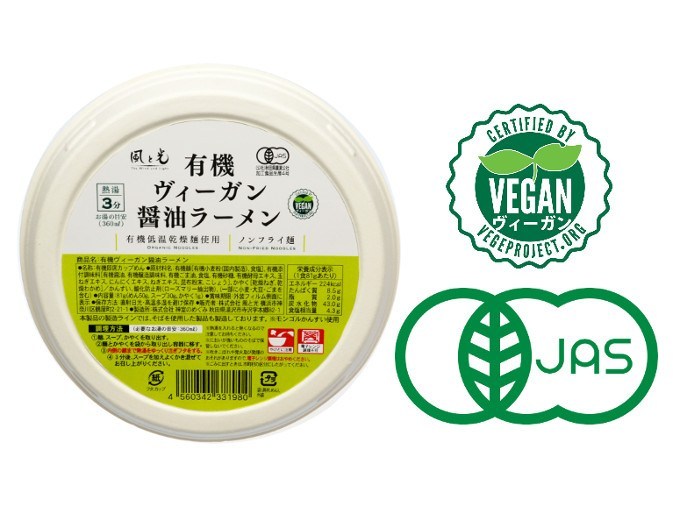 The third casual organic version of wind and light!Zero guilt! ??Organic JAS certified cup noodle "Organic Vegan Soy Sauce Ramen" is now on sale.Organic dried noodles have been commercialized by a craftsman who makes Inaniwa udon, a specialty of Akita prefecture, through research and efforts.You can enjoy the unique taste of non-fried noodles that have been dried at low temperature over time.
The soup of "Organic Vegan Soy Sauce Ramen" uses an organic soy sauce sauce that gives you the taste of vegetables and kelp.We have carefully selected body-friendly ingredients without using any animal ingredients.The fragrant Kyoto Kujo green onions and wakame seaweed are attached to the ingredients.Organic dried noodles are non-fried, and Mongolian Kansui is used for Kansui.
In addition to the organic JAS certification mark, we have also obtained vegan certification.In addition, the package uses an environmentally friendly paper container.All you need is hot water.Pour boiling water for 3 minutes!This is the first cup noodle in Japan to be certified as organic vegan, which can be eaten anytime and anywhere.