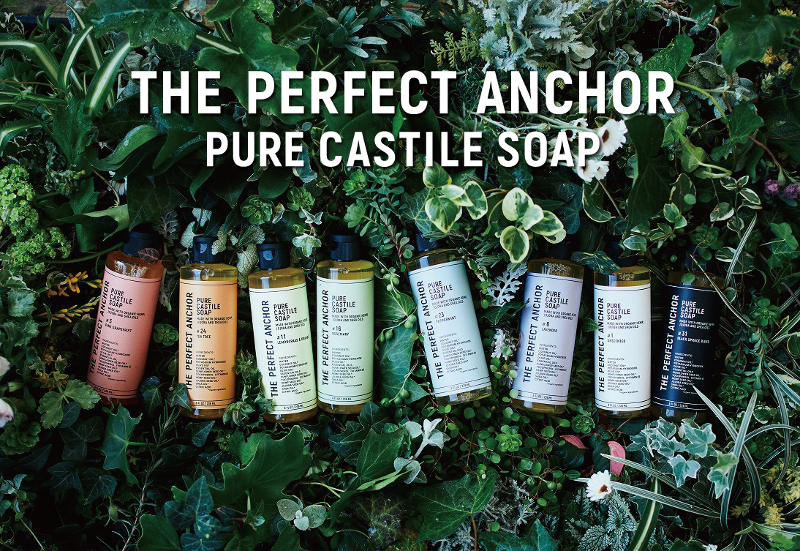 THE PERFECT ANCHOR <Pure Castile Soap>
The Perfect Anchor is a 100% natural, additive-free US-made castile soap.Castile soap is a soap made mainly of vegetable oil, which was made in the Kingdom of Castella in medieval Europe.It is known to have been used by royal aristocrats.
A prescription of US-made soap that matches the skin of Japanese people.The soap base of The Perfect Anchor is made from olive oil, coconut oil and sunflower seed oil, and is free of palm oil and palm kernel oil.
The scent uses genuine essential oils rather than synthetic fragrances or natural fragrances.There are a total of 8 types of fragrances (Uncented has no scent).Please enjoy your favorite scent.Daily face washing and bathing time can also be a special aromatherapy time. You can wash your face and body with just one, your pores are clean, and you can remove make-up, but it's not too taut, and it's easy to use.Moisturizing skin ingredients (hemp oil, jojoba oil, shea butter oil) wash your skin moist and smooth.

Oregon Tires certified organic designated by the US Department of Agriculture.No synthetic additives such as synthetic surfactants, preservatives and colorings are used.Since it is biodegraded, it is kind to the earth and has not been tested on animals. It has obtained the "Cruelty & Vegan" certification mark.
Product line-up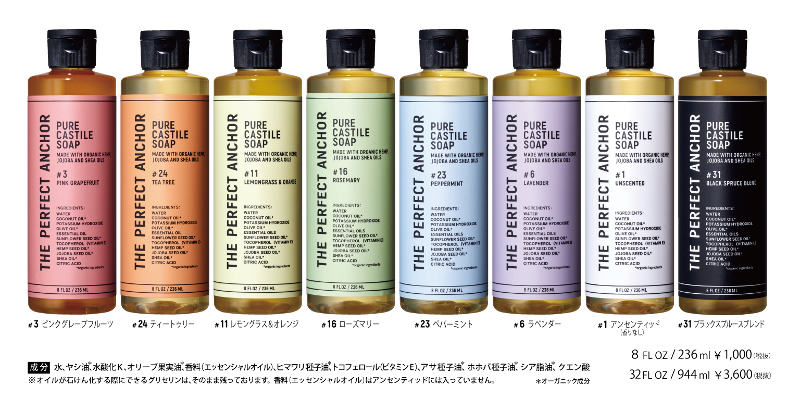 ■ Pink Grapefruit PINK GRAPEFRUIT # 3
Juicy scent like freshly picked fruit.
To feel happy
■ Tea Tree TEA TREE # 24
A clean and refreshing scent.
Also for etiquette and acne prevention.
■ Lemongrass & Orange LEMONGRASS & ORANGE # 11
A sharp yet sweet scent.
Feel active.
■ Rosemary ROSEMARY # 16
A refreshing scent of herbs.
When you want to refresh and concentrate.
■ Peppermint PEPPERMINT # 23
A refreshing scent.
For cool down & refreshment.
■ Lavender LAVENDER # 6
A gentle and soothing scent.
When you want to relax.
■ Uncented UNSCENTED # 1
No scent.If you don't like the scent
Add your favorite essential oil to make an original soap.
■ BLACK SPRUCE BLEND # 31
A luxurious scent of citrus fruits dancing in the woody.For relaxation, vitality and almighty.
[Ingredients] Water, palm oil *, K hydroxide, olive fruit oil *, fragrance (essential oil), sunflower seed oil *, tocopherol (vitamin E), asa seed oil *, jojoba seed oil *, shea butter oil *, Citric acid * Organic ingredients
236ml 1,000 yen (tax excluded) / 1,100 yen (tax included)
944ml 3,600 yen (tax excluded) / 3,960 yen (tax included)